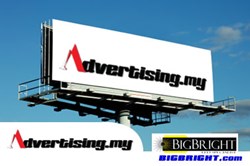 Advertising.my is a reputable agency which provides all types of media and advertising needs to its clients around the country and the surrounding region.
(PRWEB) October 31, 2013
Advertising.my is a reputable agency which provides all types of media and advertising needs to its clients around the country and the surrounding region.
The launch of the new billboards will surely strengthen the agency's brand image among its clients with more offerings and varieties in terms of advertising and promotion. Outdoor advertising has been one of the main pillars of Advertising.my, with countless campaigns undertaken successfully in recent years. Hence, with the introduction of the new outdoor advertising billboards which are at some of the most prominent locations in the Klang Valley, Advertising.my will surely continue to be the preferred Malaysia outdoor advertising agency in the market.
There will be many different types of billboards available which will include unipole boards, overhead bridge billboards, Trivision as well as Gantry boards, all of which are designed and mounted at prime locations to ensure the highest impressions and visibility among the road users.
The new billboards involved in this round of expansion are mainly in the MRR2 Highway, Federal Highway and LDP (Lebuhraya Damansara-Puchong), two of the most popular highways in the Klang Valley. The Federal Highway is one of the most important highways in the Klang Valley where it connects hundreds of thousands of vehicles each day traveling between Selangor and Kuala Lumpur.
Meanwhile, LDP which connects people from Bandar Utama toward Puchong and into Cyberjaya is the most over-utilized highway in Malaysia with expansion of the structure being planned.
With outdoor billboards in prominent locations across two of the most widely used highways, advertisers will be guaranteed of the highest possible impressions for their advertisement on a daily basis. On top of that, the billboards in LDP Highway will be most effective and impactful which are highly visible and captivating throughout the day.
Another highway which will be involved is the PLUS North-South Expressway which will involve the route between Johor and heading northwards to Penang. There are many standard 10x40 billboards in KLIA Highway available as well as many Twinpole boards as well. The KLIA International Airport highway is one which is commonly used by travelers and tourists heading to and from the airport. Advertising.my now offers advertising spaces and billboards in airports. Advertising.My is the sole agency for Skypark Firefly Airport (Subang Terminal).
As such, advertisers and brand owners can be assured of the most affordable and competitive rates which are exclusively offered to Advertising.my and then extended to them. Using the latest LED technology in the lighting and illumination of the billboards, advertisers can enjoy one of the lowest rates in terms of utility charges.
As part of this launch, Advertising.my is offering affordable and economical billboard lighting to media owners. Using LED in lighting is a current and most effective solution in the industry today as they are able to provide brighter lights, more consistent and even illumination while providing more energy efficient solutions. It is recommended that media that use bright lighting adopt LED spot lights as they will provide better Return-on-Investments with savings of up to 80%. More than 10 billboards in PLUS Highway are installed with Rishang LED spotlight.
Having been in the industry for more than 15 years, Advertising.my is the leader in Outdoor Advertising in Malaysia with clients across all major segments. Today, Advertising.my offers a full and comprehensive range of products and services for the advertising industry. On top of that, Advertising.my offers consultation and expertise in organizing events and running of marketing campaigns in all areas. Clients who have worked with Advertising.my previously will enjoy cheaper rates and further discounts while new enquiries and partnerships are welcomed.