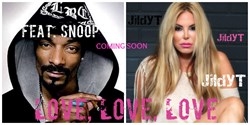 One good thing about music, when it hits you, you feel no pain.― Bob Marley
Hollywood Hills/Los Angeles (PRWEB) November 02, 2013
The red carpet event took place at their new Hollywood Hills Headquarters. DJ Connor performed his magic throughout the night as well as performances by JildyT. The event was catered by the one and only Wolf Gang Puck displaying mountains of yummy deserts with a champagne fountain flowing in the middle.
Hollywood Hippie Records is a grass roots foundation based record label with a conscience. Part of proceeds derived from artist's, record sales, events and concerts will be donated to a variety of charities.
Hollywood Hippie gives back. It's founder, employee's and media team our all driven by the needs of those less fortunate. They are currently working to help woman and children that have been victim's of domestic violence. The Jenesse Center is a recipiant of their focus. JildyT has been a supporter of the center for many years. For further information on the Jenesse Center please contact the website for information how to help.