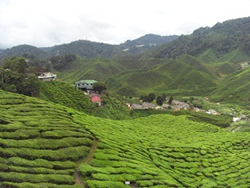 Cameron.com.my plays an important role in the dissemination of information and related resources for online users from both the local and foreign communities.
Cameron Highlands, Pahang (PRWEB) October 31, 2013
Cameron.com.my plays an important role in the dissemination of information and related resources for online users from both the local and foreign communities, hosting a wide range of information like tourist attractions, food and restaurants, homestay and accommodation and many others.
As part of the latest expansion plan, Cameron.com.my will be hosting the Malaysia Job and Homestay Carnival in Cameron Highlands to elevate more awareness among Malaysians and foreign visitors on the offerings of this highland city. On top of that, the carnival is aimed at offering more job opportunities for the people around Cameron Highlands and the surrounding areas.
This event will involve employers and reputable companies coming together at the Cameron Highlands Community Hall to advertise jobs and available vacancies to search for the most suitable candidates. There will be many types of jobs that will be available during the event in various industries and disciplines. Among the most popular areas are in the service industries while the most sought after jobs in Malaysia include those in clerical, front desk and receptionists as well as marketing and sales.
During the Job Carnival, applicants can bring their cover letters, resumes and certificates and apply for positions straightaway with the potential employers. From there, an interview will be conducted with shortlisting and further discussions being planned.
Apart from that, job applicants can join in the activities, travel forum and other events scheduled where there will be competitions and such. BigBright Malaysia, the leading lighting specialist in Malaysia is the main sponsor of the prizes for these competitions that include LED lighting modules and components as well as a wide range of electrical products. This will in turn promote more awareness and spread the benefits of using LED (Light Emitting Diode) lighting which is known to be highly advantageous. This technology is more energy efficient and do not consume as much electricity as compared to conventional lighting which will translate to more savings in terms of utility bills.
Apart from the Job segment, this carnival will cover Homestay in Cameron Highlands as well. There will be several booths that will be promoting homestay options and the advantages of engaging this accommodation choice. Many homestay operators will be promoting their packages while there are new apartments like the Crown Imperial Court Apartment and Greenhill Resort being offered as well. Participants of the carnival will enjoy discounts and affordable rates when they book during this event through Cameron.com.my.
The Malaysia Job and Homestay Carnival is an ideal platform for the people in Cameron Highlands as well as visitors here where they can find out about the available opportunities in employment not only around Cameron Highlands but in other states and locations around Malaysia as well.
Furthermore, the carnival will be a great venue to promote more environmental friendly and homely accommodation for visitors and tourists to Cameron Highlands through the Malaysia Homestay options available.
To encourage more participation, there will be many activities for everyone which includes art competitions and drawing contests for the kids while the parents can have a good time as well. Participants to the carnival and forum will be given exclusive hotel and apartment vouchers from the top hotels around Brinchang and Tanah Rata.
Such initiatives are initiatives by Cameron.com.my, the top portal for Cameron Highlands especially in the hotel booking and related information. With more than 20 hotels in Cameron Highland having participated in the online booking system and enjoying higher patronage, more operators will be joining in the near future, thereby providing more affordable and lower rates for hotel, homestay and apartment booking for members. Top Cameron steamboat restaurants will be participating in the system as well.