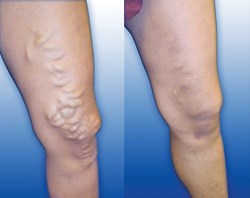 Varicose veins are a symptom of venous insufficiency, and a proper diagnosis and treatment can improve both the health and appearance of your legs.
Chicago, IL (PRWEB) November 01, 2013
The Chicago Vein Care Center is launching a new social media campaign to help educate the public about vein disease treatment in Chicago. While varicose veins may not represent an immediate threat, if left untreated they can progress to cause blood clots and leg ulceration, says the Chicago-based vein center. The center hopes to encourage people to pursue prompt treatment to prevent these consequences.
Serious consequences aside, Dr. Ramon Castro, a Chicago vein specialist, notes "Sometimes, people with varicose veins and spider veins complain only about their unpleasant appearance. At other times, varicose veins can cause swelling of the ankles and feet, pain or aching in the legs, itchy legs and fatigue." However, effective, minimally invasive treatments are now available to relieve all these symptoms and prevent future complications.
The vein disease treatment specialists in Chicago encourage patients to seek help for their varicose veins before more serious problems occur. More information will be made available through the center's social media outlets, including Facebook and Twitter. This campaign will run throughout the month of November.
For more information, visit:
http://www.yourveinexpert.com/.
Varicose Vein Treatment Options
Varicose veins and spider veins affect over 30 million people in the United States. Varicose veins are twisted, rope-like veins on the surface of the skin that may bulge and are usually bluish in color. Spider veins are small, web-like veins that appear reddish on the surface of the skin. Men and women suffer from varicose veins and spider veins, but women are more likely to have them.
The newest treatments for varicose veins and spider veins have a lot going for them. Endovenous laser treatment, sclerotherapy, radio frequency ablation and microphlebectomy are all minimally invasive treatments that can be performed in a vein specialist's office in about an hour. This means minimal downtime for the patient, few side effects, and terrific results.
About the Chicago Vein Care Center
The Chicago Vein Care Center in Chicago, IL is a leader in providing comprehensive care and treatment for all types of vein disease. The center strives to provide patients with customized vein treatments, using safe and effective noninvasive and minimally invasive therapies. The highly trained medical staff has extensive knowledge and expertise treating vein disorders such as varicose veins and spider veins. The center's chief vein specialist is a leading expert in the treatment of vein disorders using today's advanced technologies, and is a respected provider of superior patient care for the full range of vein conditions.