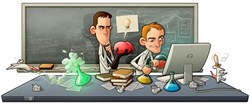 How is a "revolutionary" website designed?
Raleigh, NC (PRWEB) October 31, 2013
How is a "revolutionary" website designed? Imaginovation, a Raleigh based web solutions company, has tried to answer that question for the last few months. Due to the crazy competition in the web design and software world, and the high percentage of customers increasing their expectations in user interface design, Imaginovation thought it was time to take their site to the next level. After months of dedicated research and analysis, new UI web design trends have been popular recently, according to companies or businesses who are in demand of a new website or web application, thus "raising the bar" for web agencies offering these services. Therefore, due to Imaginovation's experienced and creative team of web designers and developers, their team's capabilities have leveraged the opportunity to implement these new trends for the upcoming site.
Imaginovation chose to implement three of the latest design trends for the revamp. These new web design trends planned to be fulfilled have demonstrated to boost brand personality, which eventually leads to higher sales conversions upon entering the site. The first trend that will be displayed is called flat design, which is a type of imagery that presents a simplistic approach with non-gradient textures. This type of design helps the website load conveniently, which is very important, and it is showcased most effectively using icons, buttons, and forms. The second trend that Imaginovation planned to use is responsive design, which is essentially tailored to accommodate all web and mobile browser resolutions. Finally, the third trend selected to implement on the new "revolutionary" revamp is minimalism. This is a trend of design in which the content and imagery are displayed in an "un-cluttered" fashion so online users don't get overwhelmed with too much going on. Imaginovation selected the minimalistic style simply because of the clean and legible display it offers to the navigator.
The three styles and trends that were selected by the team were studied heavily to impact the growth of user interactivity, quote generation that leads to sales conversions, lowered bounce rate, and a boost in brand presentation. When the new site launches around the month of February of 2014, small to large companies visiting the website will be surpassed in their high expectations of how a web design and software company website should look like. This in turn is a direct reflection of what can be offered to them according to their needs.
Stay tuned as Imaginovation launches their new "revolutionary" website consuming the latest trends in design and user experience. To learn more about their online capabilities and service offerings, visit http://www.imaginovation.net.