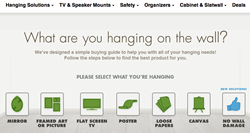 It's like having a hardware store and a handyman right in your living room.
Los Angeles, CA (PRWEB) October 31, 2013
Hangman Products has won multiple awards for its lines of easy-to-install, patented hanging systems widely available at better retailers. Now it has made these products even more accessible to the public via its website and made it so simple to choose the right product and install it safely and easily, it is like having a hardware store and a handyman right in your living room.
When you click on the website, the first thing you see is a simple question, "What are you hanging on the wall?" The choices are visible in easy-to-read icons below: Mirror, Framed Art or Picture, Flat Screen TV, Poster, Loose Papers, Canvas. Simply click on one of those links, and the website walks you through a series of simple questions which isolate exactly which product you need, while dispensing safety information and providing instructions.
For example, click on "Mirrors," and the first page offers two important safety tips, advising the user to 1) never hang a mirror on a wire hanger, it's simply not safe; and 2) if you do not know the weight of the mirror, always choose a higher holding weight. By clicking "Next," the page takes you to choose from three options, whether your mirror already has hardware you would like to remove, no hardware, or hardware you would like to utilize. Make your selection from the easy-to-read boxes, and the next page gives you clear choices of appropriate products for your mirror type and weight. If you're still not sure which product you need, a comparison chart eliminates any doubts.
Choose a product, and each product page lists exactly what is included in the package, exactly what types of home decor, including weights and dimensions, the product will serve, and both installation instructions and an installation video.
Every series, from Flat Screen TV Hangers to Poster Hangers, anticipates the most important questions a do-it-yourselfer will ask, in the correct order, then walks you through selection, purchase and installation. And you can be sure, because it is a Hangman product, you will hang it level, every time.
About Hangman Products: Hangman Products creates hardware solutions for everyday needs. The multiple-patented Hangman Systems are carefully engineered to guarantee a safe and sturdy installation while promising to hang it level every time. Hangman's products range from Hanging Pictures, Hanging Mirrors, Hanging Framed Art, TV/Stereo Mounts and Safety to Garage/Slat Wall and Organization. They are designed to meet the installation requirements for retailers, consumers and manufacturers. Hangman's ever-expanding line of products can handle even the most difficult projects.