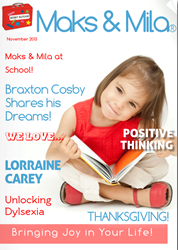 Geneva, Switzerland (PRWEB UK) 31 October 2013
Mila Publishing Sarl, publisher of the popular Maks & Mila children's books and the SECRET SUITCASE app, is pleased to announce the launch of the free Maks & Mila Magazine. The first issue will be released on October 31, 2013 and is available through the Maks & Mila website.
The Maks & Mila concept, empowers parents, teachers and children to feel happier and more confident on their journey through life and the magazine adds to that with practical tips, tools, ideas and inspiration.
Every issue will also feature special interviews. The first issue, holds interviews with award-winning author Braxton Cosby and author, teacher and reading specialist Lorraine Carey.
Merel Bakker, CEO of Mila Publishing Sarl, states that: "The Maks & Mila magazine fits perfectly in the growing number of ways Mila Publishing Sarl is reaching out to parents, teachers and children and we hope they will enjoy the magazine as much as all our other products."
The first book of the Maks & Mila children's book series, as well as the free SECRET SUITCASE app, were launched in July 2013 and received outstanding reviews from notable reviewers and websites. Both the book and the app were also chosen to be featured on History Channel and Ion Channel.
Subsequently, Mila Publishing Sarl successfully launched the Maks & Mila School Program with school visits across the United States. Last week Mila Publishing Sarl launched a Maks & Mila YouTube Channel.
About Mila Publishing Sarl:
Mila Publishing Sarl is Swiss based publishing company, founded by Merel Bakker who is a writer and certified mindfulness expert. Mila Publishing Sarl seeks to make reading, writing, happiness and confidence accessible to all, by delivering a range of products that are dedicated to this cause. Mila Publishing donates 1 book for every 6 books sold to Books With No Bounds, who distributes the books to children and schools who need our support.
"Maks & Mila On a Special Journey" is available for purchase on Amazon (17.99 USD) and in eBook format in the iBooks Store (1.99 USD). The free Secret Suitcase app can be downloaded from iTunes.