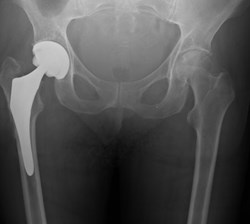 Research has shown failure rates of up to 43 percent.
Bolton, UK (PRWEB UK) 5 November 2013
According to The Telegraph, since metal on metal hip implants have come into use, they have been at the centre of speculation among surgeons. Whether or not they are safe to use has been questioned, following a high number of malfunctions, and the need for repeat surgeries (1).
Following a warning about the risk of toxic metal leaking into the body, two models have already been withdrawn from use. As reported by the Telegraph, the hip replacements began to fail much earlier that what was originally assured by the manufacturer (1).
New guidelines are now suggesting, that in order to curb the amount of casualties and readmissions, any hip implant with a failure rate of over five percent shouldn't be used by any NHS authority.
The National Institute of Health Care and Excellence has issued the warning, after research has shown failure rates of up to 43 percent (1).
Suzanne Yates, from medical negligence solicitors, Asons, said:
"There has been speculation for many years now about how reliable these hip replacement manufacturers actually are. For years, medical negligence solicitors have been abreast the situation, representing individuals that have suffered tremendous pain, and hardship, as a result of substandard apparatus."
It makes total sense that NICE have took the initiative to ban these products, as such high rates of failure are becoming a massive problem within orthopaedic departments. These methods of treating patients are supposed to support, and enhance, their lives, not cause more damage than before the surgery took place. There clearly wasn't enough investigation into the products before they were allowed on the market; thorough research could have helped avoid terrible suffering.
"Here at Asons, we have already dealt with many cases concerning hip replacement compensation; and I strongly suggest that any other victims, that believe they may be eligible to make a claim, contact a solicitor to find out more information."
Anyone who may have been subjected to a negligent hip replacement, and is now experiencing concerning symptoms, or is worried about the potential risk, can speak to Asons for more information. Visit http://www.asons.co.uk to visit the hip replacement claim page, or phone 01204 521 133 to speak to a medical negligence solicitor.
(1) The Telegraph, NHS hospitals to be banned from fitting metal-on-metal hip replacements after high failure rate, 25/10/2013
telegraph.co.uk/health/nhs/10406198/NHS-hospitals-to-be-banned-from-fitting-metal-on-metal-hip-replacements-after-high-failure-rate.html
About Asons Solicitors:
Asons Solicitors is a Bolton-based law practice that specialises in personal injury and industrial disease claims. Founded by brothers Imran Akram and Kamran Akram, Asons Solicitors has developed to become a young and dynamic law firm that delivers practical solutions to clients in times of difficulty. Their continued focus on their staff has seen them awarded with the Investors in People "Gold Award"; which is reflected in the professional and personable approach they take in working with clients. They strive to grow and to develop, and their supportiveness and attention to detail ensures that their clients use them time and again.
For further information contact:
Email: info(at)asons(dot)co(dot)uk
Website: http://www.asons.co.uk