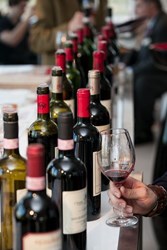 @corneyandbarrow (tasting) today was the finest portfolio tasting of the year by some margin.
London, UK (PRWEB UK) 1 November 2013
At 233 years old, Corney & Barrow is one of the oldest wine merchants in the UK and has recently undergone a re-brand. Head of marketing, Sally-Ann Farrington said, "Striking the balance between respecting the heritage of the company and the producers we represent, with the need to appeal to a wider audience less used to having a wine merchant to help them through the sometimes complex world of wine, was a challenge we thoroughly enjoyed... and we are delighted with the end result!" The new livery will be rolled out before the year end, with the newly launched website coming later in November.
In addition to its refreshed livery, the company has also recently launched a new Customer Reserves Platform which enables its customers, whose wines are stored with them, a more interactive management and understanding of their collection, including extensive information on producers, reviews, scores, drinking dates and current market pricing using LivEx data.
Sales director, Oliver Hartley said, "This is a hugely exciting time in our long history. We have recently re-structured the sales organisation to reflect our portfolio and customer needs, with Will Hargrove heading up Fine Wine including Broking and En Primeur and James Franklin taking on the responsibility for Merchant Sales, including On Trade, Corporate Sales and Private Customer sales of our everyday drinking wines. This combined with the expansion of our sales team means we will be able to better manage the demands of our customers."
The change in company structure and the new branding were both apparent at the recent Portfolio Tasting at Altitude 360, Millbank Tower on 30th October 2013, where Achaval Ferrer and Champagne Delamotte masterclasses were also held. The tasting marked the official global launch of Champagne Delamotte's 2004 vintage, to great praise from press and customers alike who noted '04 as being a great vintage especially for chardonnay. Matthew Jukes, acclaimed wine writer, tweeted "The independent merchants continue to expose the gulf in wine buying talent between them and the high street vendors. @corneyandbarrow (tasting) today was the finest portfolio tasting of the year by some margin and they showed enough wines at everyday prices alongside the hero estates, too. A shout out to trade and press buyers. Do not miss the @corneyandbarrow tasting today. It will resurrect your faith in the UK wine trade!"
Corney & Barrow has led the way in championing wines that have become internationally renowned and has an unsurpassed portfolio, from bottles offering outstanding value for everyday drinking to en-primeur cases for laying down. The company is honored to hold two Royal Warrants and is equally proud to have set new standards in service and impartial advice for all its customers.