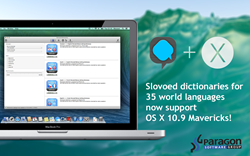 Freiburg, Germany (PRWEB UK) 31 October 2013
Paragon Software Group, a multi-platform software developer of the world's most trusted dictionaries and reference applications, announces the release of an improved — but still free — Slovoed app for the latest OS X 10.9 Mavericks, giving access to 169 newly upgraded Slovoed dictionaries for 35 world languages. Easy and quick navigation through the catalog of dictionaries within the app allows users to search for the one that will best suit their language level, skills and needs. Multiple reference tools and languages can be used in the same shell, with easy switching between them. Slovoed dictionaries are available for all levels and include the most comprehensive and up-to-date content from the world's foremost lexicographers.
In addition to five advanced search options, Slovoed dictionaries have been updated to support the enhanced dictation feature of the latest OS X release, allowing Mac users to look up words in the dictionary by saying them. To turn on the dictation feature, the user selects the "Dictation & Speech" option in System Preferences and clicks on the required languages. The dictation feature works both online and offline. To use the dictation feature in Slovoed dictionary apps, the user presses the "Fn" (Function) key twice, then pronounces a word and clicks "Done."
Five additional full text search features include:

Enter a query into the input field and Slovoed will automatically build a list of entries containing your query, increasing the probability of finding the right definition.
Find precise word translations containing a number of usage examples.
Because full text search supports the morphology, users can be sure that virtually all search queries can be found regardless of misspelling or grammatical word form.
Additionally, full text search displays search results (dictionary entries) in both language directions at once without the need to switch directions manually.
Headword search
Wildcard search to find the word even if you don't know its exact spelling
Similar words search in case of misspelling
Search within entries to narrow down and quickly navigate larger entries
Further features include:

Translate any foreign words from Safari, Chrome, Mail, iWork or other system apps.
Language learning tools: use your Slovoed dictionary in conjunction with the built-in tables of irregular verbs, favorite articles, audio pronunciations by native speakers (available for English, French, German, Italian, Spanish and Russian), and conjugation tables (available for English, French, Russian and Spanish).
Requirements: Mac OS X 10.9
Availability: https://itunes.apple.com/app/id524941905
Price: The Slovoed app is free. Dictionary prices start at $9.99/€8.99