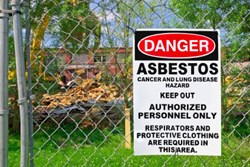 I am angry that I and other children came into contact with asbestos whilst playing in our village and around our homes and feel certain that my case will not be in isolation.
Bolton, UK (PRWEB UK) 5 November 2013
As reported by the BBC News, Miss Wilcock grew up in an asbestos contaminated area. It is alleged, that she suffered from asbestos poisoning between 1967 and 1983, whilst living next to an asbestos firm in Bowburn, County Durham. (1)
According to the news article, locals recall the deadly dust from the plant gathering on window ledges, and cars. Allegedly, children used to collect the asbestos with their hands, making "snowballs," and using the material to chalk the pavements when playing. (1)
Questioned about her story, and the decision to pursue a mesothelioma claim, Miss Wilcock said:
"My case establishes that the people of Bowburn were exposed to the dangers of asbestos over forty years ago and were largely unaware or unable to do anything to protect themselves and their children,"
"I am angry that I and other children came into contact with asbestos whilst playing in our village and around our homes and feel certain that my case will not be in isolation." (1)
Sadly, as reported by the BBC News, the 51-year-old fashion designer – now living in London - was diagnosed with mesothelioma three years ago. Her case against Cape Intermediate Holdings PLC, parent company of Cape Asbestos Company, has been settled out of court with a substantial payout. (1)
As reported by The Northern Echo, Ann Sproat -a childhood friend of Miss Wilcock - urged other potential victims to come forward, and make an asbestos claim. She remembers picking up asbestos dust, and fibres, as a child to play with, and now she fears a mesothelioma diagnosis:
"It concerns me," she said.
"We all did the same things. We didn't know what it was." (2)
Thomas Fairclough, Executive at Asons Solicitors said that:
"Mesothelioma is an Asbestos related illness that can lead to a slow, painful death, taking up to 50 years for symptoms to present themselves. It is unfortunate that something had not been done sooner, safeguarding the health of those living in Bowburn."
The asbestos-related disease is a rare form of lung cancer, caused through the inhalation of asbestos fibres. Unfortunately, symptoms are not likely to appear until 20 to 50 years after the first exposure.
Asons Solicitors have a dedicated team of industrial disease specialists, dealing with cases of asbestos related diseases, giving people legal advice, particularly in the area of mesothelioma claims, and asbestos claims.
Exposure to asbestos can be deadly, and Asons urge anyone who feels they may have been exposed to asbestos fibres to consult their GP immediately for a consultation, and contact an industrial disease specialist for legal representation. To find out more information on asbestos claims, and mesothelioma compensation, contact Asons at http://www.asons.co.uk or phone 01204 521 133.
(1) BBC News – Asbestos 'snowballs' cancer pay out, 17/10/2013 bbc.co.uk/news/uk-england-tyne-24573605
(2) The Northern Echo – Mesothelioma sufferers urged to make claim, 17/10/2013 thenorthernecho.co.uk/news/10747181.Mesothelioma_sufferers_urged_to_make_claim/
-ENDS-
About Asons Solicitors:
Asons Solicitors is a Bolton-based law practice that specialises in personal injury and industrial disease claims. Founded by brothers Imran Akram and Kamran Akram, Asons Solicitors has developed to become a young and dynamic law firm that delivers practical solutions to clients in times of difficulty. Their continued focus on their staff has seen them awarded with the Investors in People "Gold Award"; which is reflected in the professional and personable approach they take in working with clients. They strive to grow and to develop, and their supportiveness and attention to detail ensures that their clients use them time and again.
For further information contact:
Email: info(at)asons(dot)co(dot)uk
Website: http://www.asons.co.uk