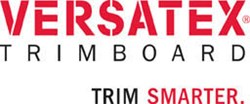 "Cellular PVC is a sophisticated product, and we find that design professionals often discover new ways of adding value to their projects as they learn more about it."
(PRWEB) November 05, 2013
http://www.versatex.com What, actually, is architectural PVC? How is it made, how does it affect the environment, and how do architects and builders work with it?
To answer these and many other questions, the American Institute of Architects (AIA) and VERSATEX® Trimboard have developed a continuing education (CEU) course centered on a walking tour of the plant where VERSATEX produces its cellular PVC exterior trim.
"VERSATEX Trimboard: From Manufacturing to Fabrication and Installation" is a two-hour course that demonstrates:

The composition of cellular PVC trim, and how its ingredients affect its durability and weather resistance
The cellular PVC blending process
"Free-foam" PVC sheet extrusion
PVC sheet cutting and texturing
The fabrication techniques that produce beadboard, mouldings, pocketed trims, fascia and frieze boards, vented soffit, cornerboards, beaded sheet and column wraps
In-plant recycling and energy conservation measures that dramatically reduce waste and facility-heating impacts
Best practices for installation in residential construction
According to VERSATEX Vice President of Sales Rick Kapres, "Cellular PVC is a much more sophisticated product than some design professionals realize, and we find that they often discover new ways of adding value to their projects as they learn more about it.
"This is a first-hand, interactive plant tour, and your guide will encourage questions and feedback all along the way." The VERSATEX plant is located in the western Pennsylvania city of Aliquippa, about 30 miles north of Pittsburgh.
Designated VTX102, the course fulfills AIA continuing education requirements for two learning unit hours. It is structured for groups of 10 to 15 professionals at all levels of experience. VERSATEX offers it at no charge to architectural firms or AIA chapters. Registration details are posted at http://www.versatex.com/aia-presentation.php
About VERSATEX
VERSATEX premium cellular PVC products are manufactured by Wolfpac Technologies of Pittsburgh, Pa., where state-of-the-art facilities produce extruded shapes such as VERSATEX trimboards, sheet, bead board, moldings and prefabricated corners, and the innovative VERSATEX soffit system. Further information is posted at http://www.versatex.com.