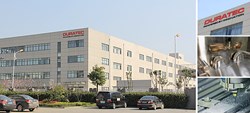 (PRWEB) October 31, 2013
Recently, DuratecPlastics.com, a well-known plastic part supplier online, has updated its website and announced a new collection of plastic injection moldings. Now, all the newly released moldings are available at discounts, up to 29% off.
DuratecPlastics.com is a leading company for injection molding and molded plastic products. It has been specializing in injection molding for many years and has a lot of related experience. Its customers include various companies and mold distributors from the whole world. DuratecPlastics.com is one of the most famous injection molding companies; it offers only high quality products at affordable prices.
"We are excited to announce the new collection of plastic injection moldings. It has more than 20 different kinds of plastic injection moldings in it. We have updated our website to offer you the latest information. Furthermore, these new moldings are provided at discounted rates. If you need some excellent plastic injection moldings, please visit our website now," says the CEO of the company.
DuratecPlastics.com is providing many kinds of top quality plastic injection moldings for clients from all over the world, including a lot of major companies and mold distributors. Therefore, the company has a very good global customer base now. It want to attract more customers through high quality items, fast delivery and perfect customer service.
About DuratecPlastics.com
DuratecPlastics.com specializes in plastic injection molding and plastic product assembly. The business is located in Suzhou, which is a major tourist city in China and is considered as beautiful as the paradise. The company owns a modern manufacturing and warehousing facility as large as over 12,000 square meters. For more information, please visit http://www.duratecplastics.com/.