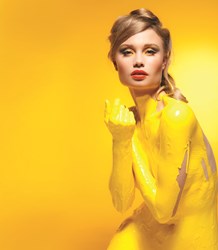 The brand's summer range mirrors international cosmetic trends which is colour, colour, colour.TJ van Rooyen Edcon General Manager.
Johannesburg (PRWEB) November 18, 2013
Exclusive to Edgars and Red Square, GOSH Cosmetics, an innovative and trendy Danish cosmetic brand, has taken the local market by storm since launching in South Africa in late 2012. Inspired by runway fashion trends, GOSH's range of products are perfect to get an on trend look this summer.
According to Edcon General Manager, TJ van Rooyen
"GOSH Cosmetics is a colourful, fun, edgy and inspirational brand which allows consumers to create their own unique and individual style. This theme will be carried through to our colourful, new brand campaign just launched featuring a line-up of local South African models."
Here are a selection of products to re-create the key runway looks of the summer.
All about eyes
Runway trends reveal a number of great looks for summer 2013. According to Vogue magazine, it's all about eyes this spring/summer, whether its jewelled lids, pink mascara, silver or metallic shadows.
To get this look, apply Mono Eyeshadow in Silver (R99), Intense Eye Liner Pen in Black (R125) and Catchy Eyes Mascara (R110) for ultra seductive and curvy lashes. Finish the look off with a light colour on the lips, such as the Long Lasting Lip marker pen in Soft Rose (R110).
Enhanced minimalism
Another trend is towards enhanced minimalism. In other words, a flawless finish but with skin which is prepped to perfection, subtle contouring, a slight curl of the lashes and even a faint brushing of pink on the cheeks. A powdered matt finish is perfectly on trend.
To get this matt look, try Velvet Touch Line Perfector (R220), which fills in deep wrinkles while at the same time creating a beautiful flawless finish to the skin; Natural Touch Foundation SPF8 (R180), a light foundation that gives the skin a natural but flawless look; or X-ceptional Wear Makeup (R140), a long lasting even and natural matt finish foundation; and Pressed Powder in So Natural (R130) which provides a velvety matte glow.
Top the look off with Natural Blush in Rose Whisper (R115), a lightly textured blusher; and Volume Lip Shine in Cherry Blossom or Nude (R120); or even the lip gloss in 009 (R99) for a more natural look.
Matte lips
Trendy colours for this summer's fashionistas are bright, bold and vibrant. Think scarlet, coral, fuschia and pink. However, the only way to wear these bright colours on lips is if they are matte.
GOSH Velvet Touch lipstick in Lambada (red), tropical pink or shocking coral provide an intense and lasting colour to lips. The brand's Long Lasting Lip Marker Pen in Pink (R110) is the perfect accompaniment for on trend lips this summer.
Nail trends
Nail trends for summer 2013 range from nudes to bright pastels and vibrant coral. GOSH Nail Lacquers fit the bill perfectly: try Hot Coral, Miss Minty, Blue Balloon and OMG Nail Lacquers Nude Champagne, Cobalt Blue, Splish Splash (lime and lemon), Electric Pink and Sunny Orange.
Protect your skin
Rather than subjecting your skin to the sun's harmful rays, try one of the bronzing products to give you that summer glow. The products include a self-tan spray, mousse and lotion as well as an Instant Tan Gel.
All GOSH products are perfume and paraben free, approved by PETA as cruelty free, and are manufactured to the highest quality.
There is also a range of affordable but quality haircare, skincare and fragrance products to suit everyone's needs. The professional haircare products, for example, are formulated with superior ingredients and vitamins to give optimal care, nourishment as well as vitality and shine for every kind of hair.
The professional skincare products are based on the latest formulations and carefully selected and well documented ingredients to protect and nourish all skin types.
Finally, the brand also has an affordable collection of fragrances for men and women.
For more information go to http://www.goshsa.co.za or call 0800 203 925. To keep up with GOSH news Like us on Facebook at GOSH SA and follow us on Twitter @gosh_sa.
ENDS.
About GOSH Cosmetics
GOSH Cosmetics is an innovative and trendy cosmetics brand from Denmark that has been turning heads for more than 25 years. It is currently represented in 80 countries worldwide and is now available in South Africa for the first time. The product range includes colour, fragrance, skincare and haircare.
GOSH Cosmetics is known for its colourful, edgy and innovative products that are fun and inspiring to use. The products are produced by GOSH Cosmetics themselves in Denmark - mostly free of perfumes and parabens and are therefore ideal for all kinds of skin.
Upcoming fashion and beauty trends as well as new consumer needs are the source of inspiration and the starting point for GOSH Cosmetics. They are continuously developing new and exciting products for the consumer that demands more than the ordinary and is daring and experimental.
The broad product range leaves nothing to be desired and allows the consumers to match and underline their own individual style. Discover the different categories of GOSH's unique cosmetics range and get inspired.
About Edcon
Edcon is South Africa's largest non-food retailer, with a market share of the South African clothing and footwear (C&F) market nearly twice that of its nearest competitor, trading through a range of retail formats. The Group has grown from opening its first store in 1929, to trading in 1,233 stores (at March 2013) in South Africa, Botswana, Namibia, Swaziland, Lesotho, Mozambique and Zambia. Edcon has been recognised as one of the top companies to work for in South Africa and continues to make significant progress in its employment equity and transformation goals.
Our retail businesses are structured under three divisions: Edgars division, including Edgars, Boardmans, Edgars Active, Edgars Shoe Gallery, Red Square and the Group's mono-branded stores such as Topshop Topman, serves principally middle and upper income markets; Discount division including Jet, JetMart and Legit, serves principally middle to lower income markets; and CNA, the Group's stationery, books, games, movies, music, hi-tech electronics and mobile retailer. The Edcon Credit and financial services division provides credit and insurance products to the Group's customers.
With the launch of its Thank U loyalty program, Edcon now has the largest retail customer database in South Africa with approximately 10 million customers. This enables Edcon to provide customers with relevant offerings across its suite of retail and financial services products.
For more information, please visit the Edcon website: http://www.edcon.co.za.
About Edgars
Edgars is the Department Store of Choice for Men's, Ladies, Kidswear, Footwear and Accessories for every occasion as well as leading Cosmetic brands from around the world including GOSH Cosmetics, Nails inc, Sampar, Korres, Radical Skincare, Greenland and Kings & Queens. Showcasing the widest range of the latest's fashion trends from top international brands to own private label brands; Edgars offers something for everyone. There are 181 Edgars' stores in South Africa including neighbouring countries.
For more information, please visit the Edgars website http://www.edgars.co.za.
About Red Square
Red Square is South Africa's leading cosmetics specialty brand offering the widest range of national and international branded cosmetics in 39 stores and with 3 new stores opening on the 26th September, customers will now be able to choose from 42 stores or shop online at http://www.redsquare.co.za.
Covering make-up, skincare, fragrances and accessories, Red Square includes famous brands such as Clinique, Clarins, Estee Lauder, L'Oreal and Revlon and is constantly developing its catalogue as seen with the recent additions of GOSH, Nails Inc, Smashbox, Bobbi Brown & CK Colour. Customers can consult a beauty advisor at the Red Square treatment counter for a free skin analysis.
Red Square now offers a unique sampling programme for on-line customers that allows them to choose three free samples with every order. The website promises to be a hugely valuable tool with a wealth of product information and customer reviews. Most of the brands in store are available on the website, with more brands being added every month. All orders over the value of R350 are delivered at no charge.
Customers can select from a wide choice of payment options including Edgars Cards and Jet Thank U account cards, as well as all major credit cards. The Thank U loyalty programme offers additional customer benefits which can be earned when spending in-store or on-line.
ENDS.