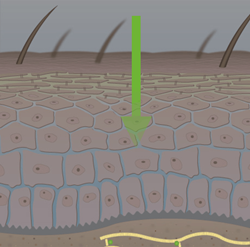 Delcore promises to improve the penetration and thus the efficiency of cosmetic active ingredients
(PRWEB) October 31, 2013
The Delcore active ingredient delivery system has been named a finalist in the Best New Ingredient category of the Cosmetics & Toiletries R&D Award at this year's In-Cosmetics Asia, held in Bangkok on 29th-31st October. This ingredient promises to improve the penetration and thus the efficiency of cosmetic active ingredients.
"Delcore is a hyaluronic acid based carrier system. The main function is to increase the stability and penetration of cosmetic actives. The carrier creates a micellar self-organizing system with other substances, which increases the stability of actives in the formulation. The carrier enhances penetration through the top layers of skin. Analyses have shown that actives, which individually affect only the outermost layer of the skin, penetrate the deeper layers of the skin when the carrier system is deployed," says Dr Muthny, head of the cosmetic R&D team, as he explains the way the product functions.
After the release of the active substance from the delivery system following its penetration through the skin barrier, the carrier is degraded into biologically active substances with antioxidant, immunomodulatory, and hydrating effects. Degradation products are natural substances in the body and have been shown to be effective in current cosmetic applications.
For example, in the application of a formulation with the Delcore delivery system loaded with Coenzyme Q10, there was a significant increase in hydration after 42 days of application. However, it was observed that neither Coenzyme Q10 nor Delcore has a significant effect on the hydration of the skin on its own.
Info:
Contipro Biotech is a producer of anti-aging active ingredients. Its products are backed by 23 years of experience in cosmetic ingredient production and by a strong R&D background. Contipro is one of the world leaders in the production of hyaluronic acid by biotechnological means.
Personal care ingredients show In-Cosmetics Asia is the leading exhibition & conference in Asia for personal care ingredients, where global cosmetic ingredient suppliers exhibit their innovative products to cosmetic manufacturers from across Asia and the rest of the world.