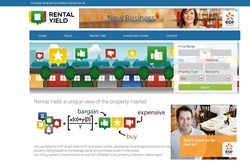 (PRWEB) October 31, 2013
This month saw the launch of the site RentalYield.co.uk, a revolutionary new UK property price comparison site that – unlike any other competitors – gives customers a unique overview of the investment potential in the properties in their search areas.
Rental yield is a familiar term for buy-to-let investors, the net rental yield is the annual rent after deducting expenses as a percentage of capital value or acquisition price. This value usually varies from three to five percent in London areas like Mayfair and Kensington, but it could go as high as 30 percent in places like Ashford.
The capricious nature of the UK's housing market, where house prices can be skyrocketing in one town and sinking like a stone in others, means that keeping tabs on potential rental yields in a range of locations can be the only way of putting some genuine logic behind a purchase decision. Aggregating sites that have sprung up across the web give consumers plenty of choices to take a look at, which makes it even harder and more confusing to evaluate a single property as an investment prospect, problems that RentalYield.co.uk aims to make extinct.
Founder Frank Vitetta explains:
"For anyone trying to get onto the property ladder today, buying a property in the UK can carry significant risk – it's something I've experienced personally, and also seen amongst friends and family. At RentalYield.co.uk, we want to help reduce that risk by allowing people to make sound investment enquiries with data on their side."
The site's property listings are based on a complex algorithm that factor in a range of historical figures, from property size and type to postcode average costs. Frank said:
"We calculate the average cost for each property type on a monthly basis at a postcode level, and then score every live property listing as a good, amazing or poor deal. We also aim to partner with buy-to-let mortgage advisers early next year 2014 so we can provide more support for our visitors."
RentalYield.co.uk isn't just a normal price comparison site; it rates each potential purchase or rental investment based on similar properties in that area and gives you an immediate idea of what sort of deal you might be getting. Naturally it can't take into account personal predilection of a house or flat, but the data is a solid foundation to find properties.
Visit the site at http://www.rentalyield.co.uk.