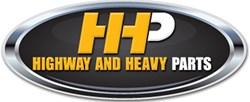 Midland, MI (PRWEB) October 31, 2013
When it comes to running a highly profitable diesel engine repair shop, staying one step ahead of the competition is critical to success. With profit margins shrinking and customer demands becoming more and more complex, vendors are constantly searching for ways to cut costs and streamline operations without having to sacrifice the quality of their service. Though this has proved to be a difficult task for a lot of repair shops, many are discovering that making the switch from OEM parts to re-manufactured components may be the answer, and Highway and Heavy Parts (HHP) is helping them do that.
Some of the newly covered engine models are:
C10 / C12: 1165414, 1165425, 1165426, 1372500, 1470373, 1561011, 1602303, 1611785, 1945083, 2123462, 2123463, 2123464, 2123465, 2123466, 0R4987, 0R4988, 0R8773, 10R0725, 10R0961, 10R0963, 10R0967, 10R0968
3406E: 1022014, 1026230, 1026236, 1034562, 1095038, 1170481, 1170482, 1171146, 1171148, 1187929, 1188010, 1189027, 1189030, 1189035, 1523680, 1592479, 1592631, 1761145, 1913002, 1913003, 1913004, 21113022, 2113023, 2113024, 2113027, 0R4118, 0R4119, 0R4300, 0R4668, 0R4893, 0R4894, OR4895, 0R9256, 0R9257, 10R0956, 10R0957, 10R0958, 10R2780, 10R2781, 10R2782, 10R8501, 10R8502
For more information on fuel injectors or any other diesel engine components from Highway and Heavy Parts (HHP), you can visit their website http://www.highwayandheavyparts.com or call them toll free at (855) 447-7278 to speak with one of their qualified professionals. HHP specializes in rebuild kits, cylinder heads, camshafts, crankshafts, fuel injectors, turbochargers, and gasket sets for diesel engines. Coverage includes: Caterpillar, Cummins, Detroit Diesel and International engines for On-highway, Off-highway, Marine, Power Generation and Natural Gas Markets.