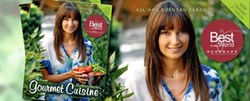 A recent study shows pelvic pain and inflammation from endometriosis significantly decreased after 12 months of eating a gluten-free diet.
New York, New York (PRWEB) November 05, 2013
Co-founder of the Endometriosis Foundation of America, Dr. Tamer Seckin believes that eating a healthy, nutritional and gluten-free diet is one solution to decreasing endometriosis pain, inflammation, and immune system deficiencies. Dr. Seckin recently met with author Ashlihan Sabanci of "Gluten-Free Mediterranean Gourmet Cuisine," to discuss the invaluable recommendations for a healthy immune system.
While many may fear that eating a gluten-free diet eliminates their favorite meals like pastas and pizza, today, especially in cosmopolitan cities like New York and Los Angeles, there are more gluten-free options to choose from. Gluten-free shoppers can also find ingredients in their grocery store. Staple items include quinoa flour, to make gluten-free bread; quinoa pasta; and introducing rice-based meals with plenty of fruits and vegetables.
Dr. Seckin believes there is an immunological component to endometriosis. Some women who are diagnosed with endometriosis suffer from other autoimmune inflammatory diseases and chronic fatigue. A gluten-free diet will create a properly-functioning immune system that will lead to positive physical and metabolic changes.
The diet is designed to improve and reduce internal inflammation in the body. Dr. Seckin advises, "Eating healthy, exercising, getting enough sleep, and incorporating a gluten-free diet are keys to improving your immune system. If a food is upsetting your stomach and disrupting your immune system response, it is best to avoid it."
According to a recent study by Tor Vergata University in Rome, Italy, pelvic pain and inflammation from endometriosis significantly decreased after 12 months of eating a gluten-free diet. The reason that certain foods make the symptoms of endometriosis worse is based on the chemical reactions in the body that are released by these food groups.
"It is very important to eat a well-balanced diet full of whole foods and plenty of antioxidants," said Sabanci. "To help boost the immune system, the most valuable antioxidants to consume are: Fiber, Vitamin A, Vitamin E, Vitamin B1, Vitamin B2, Niacin, Folic Acid, Vitamin C, Calcium, Magnesium, Iron, and Zinc. The most efficient way to increase antioxidant intake is to increase your daily consumption of fruits, vegetables and legumes."
To read the full Q & A with Dr. Seckin and Sabanci, visit: http://www.drseckin.com/blog/gluten-free-mediterranean-gourmet-cuisine.
About Dr. Seckin:
Dr. Tamer Seckin has focused on the surgical treatment of endometriosis for decades and today is a well-regarded expert in the field. His New York City based practice is known for its warm, dedicated and continuous patient care, exceptional skill and thoroughness. As a leading endometriosis specialist and laparoscopic surgeon, Dr. Seckin understands the frustration that affected individuals may feel. Dr. Seckin's treatment approach is the gold standard--Advanced Laparoscopic Excision Surgery (deep removal of all the disease). He performs almost scar-free surgery, which means less pain and cosmetically acceptable results.