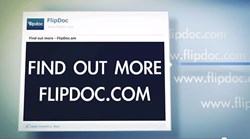 With interactive photo galleries and embedded video, FlipDoc is a stand out product.
(PRWEB UK) 4 November 2013
Continuing to drive the interactive features of FlipDoc, iQ interactive have added a number of new interactive features and functionality to the latest version. Visit http://www.flipdoc.com for examples and case studies.
There is now the ability to embed HTML5 web apps directly within the FlipDoc to make them truly interactive with web design functionality. Whether it is a technical demonstration, interactive map, animation or game you can present this to clients without them having to leave the page. Compared to the standard flat unresponsive pdf page turning brochures, this allows FlipDoc to really stand out and take a memorable message to clients. View an example with HTML animation on the front page.
Driven by the Artist and Photographer user base and feedback from our free website report, another addition is the ability to add an interactive photo gallery. Adding up to 20 photos with easy to click thumbnails, again the advantage of keeping the viewer on the page without linking out to different sites is invaluable. It allows a creator to showcase a whole portfolio within the FlipDoc complimenting it with their biography and social media links. View an example photo gallery FlipDoc here.
Add these new features to an already powerful online brochure that is non-flash, can embed video and include individual hyperlinks and the user experience is truly interactive. FlipDoc is viewable on all devices including iPad and fully responsive to screen size and all browsers.
Visit http://www.flipdoc.com for more information and to view a range of examples and how companies are utilising FlipDoc within their online communication marketing.