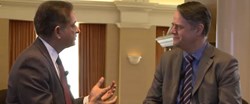 "This is a great opportunity for us to talk about the mobile revolution and how organizations can leverage the mobile capabilities to build new businesses or grow existing ones!" ~Anurag Kumar
Austin, TX (PRWEB) October 31, 2013
"MoviForum is a great opportunity for us to to discuss the latest and greatest technologies and services that are shaping the way all businesses work. There is a lot of great talent that will be talking about the latest tools and solutions for the industry and I'm glad to be part of it," said Anurag Kumar, CEO of iTexico, a nearshore mobile development company based in Austin Texas.
Mobile development is still on the rise and it has changed the scenery for enterprises to grow and extend their businesses on a global scale. Anurag Kumar, along with Antonio Sobalvarro, will discuss the benefits of mobile enterprise solutions and applications.
They will discuss strategies and technologies that will take the Latin American and Caribbean enterprises supporting US businesses to the next level. They will also discuss mobile device security, location services, cloud services, and how traditional enterprise companies can gain from the insights of the broad developer ecosystem. Companies based all over North America, including US and Canada, will benefit from the knowledge shared by the Latin American companies at MoviForum.
Anurag Kumar commented: "As a nearshore technology company, we are aware of how fast the mobile development is growing and evolving and, of course, we are ready to keep up with the innovations happening in the mobile industry. This is a great opportunity for us to talk about the mobile revolution and how organizations can leverage the mobile capabilities to build new businesses or grow existing ones."
For instance, with iTexico's expert mobile app maintenance and support program MobiAppCare, the iTexico team makes sure that each mobile app stays up to date through on-demand expert maintenance services as well the testing and quality assurance.
Adding up to its mobile expertise and mobile development services, iTexico's eTaaS (Extended Team as a Service) provides companies with flexible teams of experts on the full application lifecycle for web and mobile apps. By leveraging a nearshore team located at iTexico's delivery center in Guadalajara Mexico, the company can complement existing teams on-site and off-site for user interface and user experience design, native and cross-platform mobile development, backend development and professional testing and QA services.
iTexico's CEO, Anurag Kumar, will be part of the second annual Latin American & Caribbean Mobile world forum and expo (MoviForum) in Miami, Florida as a speaker along with more than 50 exhibitors and top experts. Anurag will be discussing mobile enterprise solutions and applications.
During MoviForum, all attendees will have the opportunity to meet with top industry experts as well as technology experts. Media outlets, internet and mobile marketers, entertainment companies, content providers, venture capitalist, brand managers, user interface architects, consultants and others will also be present at the event to participate in networking opportunities to generate potential value to the attendees, speakers and exhibitors.
MoviForum is all about the next multi-billion dollar mobile market. A two day event starting on November 4th 2013 at the Miami Airport Convention Center. Additionally, iTexico will be exhibiting at the MoviForum expo in the Exhibit Hall at booth 204. For more information visit http://www.moviforum.com