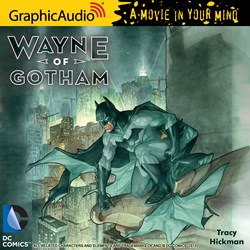 Bethesda, MD (PRWEB) November 07, 2013
GraphicAudio presents WAYNE of GOTHAM written by Tracy Hickman. WAYNE OF GOTHAM is the 24th DC Comics novelization released in GraphicAudio®…A Movie in Your Mind® audio entertainment format. These action-packed productions have a full cast, sound effects and cinematic music all wrapped into 6 hours of audio entertainment. In WAYNE of GOTHAM, behind every mask is a real man. Two men joined by blood but separated by murder: Thomas, the rebellious doctor and heir to the vast Wayne empire, and Bruce, his son, whose life is forever altered when he witnesses the brutal death of his parents.
The slaying of Thomas and Martha Wayne is the torturous moment that inspires Bruce to become the mysterious crusader Batman—the genesis of a simple mugging gone horribly wrong. The Dark Knight's file on the case has long been closed, the foundations of Bruce Wayne's secret life secure. But all is shaken when an unexpected guest invades the grounds of Wayne Manor, raising questions about the event that ended the lives of the mother he loved and the father he worshipped, sparking Bruce's unquenchable drive to protect and avenge.
To discover his true family history, Batman must face down old foes, confront his only confidant, invade the evil heart of Arkham Asylum, and shoulder the terrible new burden of a dark legacy.
WAYNE of GOTHAM is available in Stereo High Quality Download Formats - MP3, M4B, FLAC and in Stereo AUDIO CDs at the online store http://www.GraphicAudio.net. The New GraphicAudio Access™ App allows customers to directly download titles on their Android smartphones and tablets to start listening immediately. The iOS App will be available in December.
BATMAN and all related characters and elements are trademarks of and © DC Comics.
(s13)
About Warner Bros. Consumer Products:
Warner Bros. Consumer Products, a Warner Bros. Entertainment Company, is one of the leading licensing and retail merchandising organizations in the world.
About DC Entertainment:
DC Entertainment, home to iconic brands DC Comics (Superman, Batman, Green Lantern, Wonder Woman, The Flash), Vertigo (Sandman, Fables) and MAD, is the creative division charged with strategically integrating its content across Warner Bros. Entertainment and Time Warner. DC Entertainment works in concert with many key Warner Bros. divisions to unleash its stories and characters across all media, including but not limited to film, television, consumer products, home entertainment and interactive games. Publishing thousands of comic books, graphic novels and magazines each year, DC Entertainment is the largest English-language publisher of comics in the world. In January 2012, DC Entertainment, in collaboration with Warner Bros. and Time Warner divisions, launched We Can Be Heroes—a giving campaign featuring the iconic Justice League super heroes—to raise awareness and funds to fight the hunger crisis in the Horn of Africa.
About GraphicAudio®…A Movie in Your Mind®:
GraphicAudio®…A Movie in Your Mind® is an imprint of The Cutting Corporation. Since 2004, GraphicAudio® has published approximately 900 titles and 60 different series in their GraphicAudio®…A Movie in Your Mind® audio entertainment format. GraphicAudio® has adapted other comic prose novels in GraphicAudio®…A Movie in Your Mind®. For more on GraphicAudio®…A Movie in Your Mind® visit: http://www.graphicaudio.net.