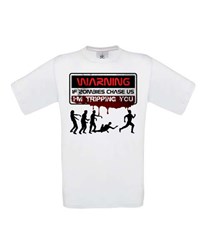 The BBT range of Zombie & Vampire shirts need no such invitation, you can wear them all year round in the knowledge that you'll always look a little bit more original, and a lot cooler than the rest of your mates.
Blackburn, Lancashire (PRWEB UK) 31 October 2013
BBT Clothing are delighted to announce the launch of a brand new range of Zombie and Vampire T-shirts. It's no coincidence that these gorgeously gory designs are hitting the shelves on today of all days – Halloween! It's that time of the year again when people start to see strange shapes in the night's sky, and weird noises are heard as people hurry home from late night shopping. No matter how young or old there is something magical about the last few days of October. Hearing the knock on the door and seeing odd and unfamiliar shadows on the front porch.
Zombies are probably the most popular type of horror character these days, and it's not hard to see why. That eerily low moaning noise and the stink that reaches the nostrils as those gross human-esque bodies shuffle towards their potential victims; it really is the stuff of nightmares. But enough about the post office staff, let's talk about the new range of Zombie T-Shirts that BBT clothing have released in a time sensitive fashion.
The Walking Dead is well represented here with some style and the T-Shirts stocked in their honour are gruesome to say the least. There are a few humorous designs that will appeal to the cooler Zombie fans out there, here's a list of the new range of Zombie T shirts:

I Love Zombies
In Case of Zombies Break The Glass
Keep Calm and Kill Zombies
Don't Open, Dead Inside
The Walking Dead Survivor
Warning, If Zombies Chase Us, I'm Tripping You
In Case of Zombie Apocalypse – Choose Your Weapon
Zombie Attack Costume T-Shirt
On a Zombie Killing Spree
Zombie Outbreak Response Team
Ever since Twilight reared its charming head in our cinemas, Dracula and his bat-faced buddies have seen something of a renaissance on these shores. And let's face it; Vampires are a little sexier than those smelly old Werewolves. BBT have a lovely Vampire-esque shirt for those who just can't get enough of Sookie Stackhouse. Check out the True Blood Merlotte's Bar and Grill design, it's a real homage to one of the coolest TV series.