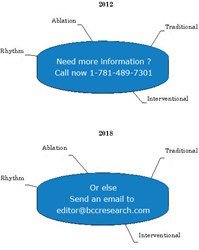 BCC Research projects the market for Cardiovascular Surgical Devices grow to nearly $47.2 billion by 2018.
Wellesley, MA (PRWEB) November 01, 2013
According to a new technical market research report, Cardiovascular Surgical Devices: Technologies and Global Markets from BCC Research (http://www.bccresearch.com), the global cardiovascular surgical devices market was valued at $29.7 billion in 2012 and is expected to reach nearly $31.7 billion in 2013. BCC Research projects the market to grow to nearly $47.2 billion by 2018, and register a five-year compound annual growth rate (CAGR) of 8.3% from 2013 to 2018.
Cardiovascular disease is the leading cause of death for both men and women in the United States, as well as in many other countries around the world. The American Heart Association estimates that 83.6 million American adults, or more than one in three, have one or more types of cardiovascular disease. Indeed, more Americans die of heart disease than of the combination of all cancers and AIDS.
In 2010, over 7.5 million inpatient cardiovascular operations and procedures were performed in the United States alone. During that year, the total inpatient hospital cost for cardiovascular disease was estimated to be $71.2 billion, about one quarter to the total cost of U.S. inpatient hospital care. The American Heart Association further estimates that, by 2030, the total direct medical costs associated with cardiovascular disease in the U.S. alone will increase from an estimated $312.6 million in 2009 to almost $1.5 trillion (in 2010 dollars).
Although incidence rates of cardiovascular disease in many European and other developed nations parallel those of the United States, many developing nations actually have much higher rates of cardiovascular disease. The World Health Organization estimates that 60% of all cardiovascular disease occurs in less developed countries. Recent increase in incidence of cardiovascular disease has been fueled by higher obesity rates in less developed countries; for example, WHO estimates that there are 70 million overweight people in China alone. The global economic burden of coronary heart disease is projected to rise from an estimated 47 million disability adjusted life years in 1990 to an estimated 82 million disability adjusted life years by 2020. This increase will be most acutely felt in nations such as Egypt, India and the republics of the former Soviet Union.
As new medical technologies become more widespread in these areas, the demand for cost-effective cardiovascular disease treatment options will experience strong growth. Medical advances, aging populations, increasing rates of obesity, and poor nutrition will drive significant growth in this market for the foreseeable future.
This report from BCC Research provides a comprehensive overview of multiple technologies and procedures related to cardiovascular surgical devices. It analyzes global market trends, with data from 2012, estimates for 2013, and projections of CAGRs for the period 2013 to 2018. The study focuses primarily on four categories of cardiovascular surgery: traditional (open), interventional, cardiac rhythm management (CRM), and cardiac ablation procedures. In addition this study analyzes the industry on a worldwide basis from market, product and, technology perspectives. Regulations and reimbursement issues and patents issued from 2010 through mid-2013 are also examined to identify patient safety, regulatory review, and insurance coverage issues for stakeholders and potential stakeholders in this industry.