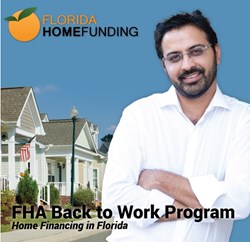 Qualify for a new mortgage just 12 months after Bankruptcy or foreclosure...
(PRWEB) October 31, 2013
U.S Department of Housing and Urban Development otherwise known as HUD recently released their credit enhancements under the FHA back to work program to make it easier to qualify for an FHA loan. HUD has made an effort to increase homeownership opportunities for borrowers that have experienced financial difficulties due to the recent economic downturn (Source). They have expanded their underwriting guidelines to make qualifying for an FHA loan easier. As a result, it is easier for mortgage companies to meet the high demands of borrowers with damaged credit, such as from foreclosure or bankruptcy.
The FHA back to work program is simple: If a borrower truly lost their home or filed for bankruptcy due to unexpected job related financial hardship, then HUD is willing to give them a second chance on home financing. In simple terms, this expanded guideline helps borrowers that have specifically had a short sale, foreclosure, deeds-in-lieu, or bankruptcy due to financial hardship that has now been overcome. In other words a borrower could not have strategically defaulted on their mortgage due to real estate market meltdown and now expect the government housing authority to assist with new home financing needs.
Until recently, FHA financing in Florida typically required a 2 to 4 year waiting period when a borrower had experienced a major derogatory event such as a foreclosure or a bankruptcy. However, this exception on the standard waiting period to qualify for an FHA loan under the FHA Back to Work Program has been waived only for a borrower that can truly meet the following 3 criteria:
1. Document a financial hardship that led to their derogatory credit, such as loss in employment or significant drop in borrower/co-borrower income;
2. Demonstrated re-credit worthiness in the past 12 months via new or reestablished trade lines;
3. Completed housing counseling from a HUD approved agency.
Here are the two most important factors taken into account when an FHA approved underwriter examines a borrower's eligibility to purchase a home via FHA financing after an unintended economic event:
1. The number one most important documentation required is proof that your household income declined by more than 20% for a period of at least 6 months prior to default. HUD defines household income as income of the borrower and co-borrower on the previous mortgage that went into default. For instance, based on the recent HUD mortgagee letter, if the spouse was not on the mortgage then their income is not required to be documented.
2. The second most important factor in determining eligibility is re-establishment of good on-time credit for at least 12 months after the economic event. For instance, if a borrower had a bankruptcy, they must have at least 3 new trade lines (i.e. credit cards or installment loans) established with satisfactory payment history.
The program sounds great as it helps once again make the American dream of homeownership possible for those that truly lost their home due to uncontrolled financial hardships such as loss of employment or significant drop in income.
According to Florida Home Funding, the biggest problem is that most mortgage companies are not set up to manually underwrite and approve these loans based on the enhanced back to work FHA guidelines. Most lenders require that the borrower received an automated approval to qualify for this program. Problem is that the current automated desktop underwriting systems used by most mortgage lenders has not been completely updated to approve borrowers with the above mentioned derogatory on their credit. So here we have got the general public excited to only let them know that the program is not available yet by most mortgage companies.
About: I'm Shahram Sondi, owner and operator of Florida Home Funding, a Florida licensed mortgage broker. As a consumer advocate, I am constantly working to educate consumers on making good financial decisions. I have been serving the Central Florida market with experience and integrity since 2001. I bring you over 12 years of hands-on industry experience overseeing half a billion dollars in mortgage transactions. For more information, call 407-704-8729 or visit http://flhomefunding.com/.