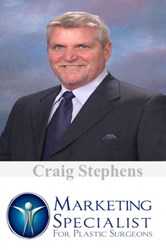 You are a Plastic Surgeon. Let me help you promote your name as a local expert in Plastic Surgery in all the media channels. I'm Craig Stephens, a Plastic Surgeon Marketing Specialist.
Key Largo, FL (PRWEB) November 01, 2013
Marketing Specialists for Plastic Surgeons released information today about a second contest for a free plastic surgery procedure. Unlike the first contest, this contest will call for men and women who have already received plastic surgery to explain how that surgery has changed their lives. According to the company, the winner of the procedure will be the contestant that sends the "most genuine and compelling" explanation of how it has helped them.
"We want to connect with as many people as possible with these contests," said Craig Stephens, CEO of Marketing Specialists for Plastic Surgeons. "I think our first contest will do a great job connecting us to people that have never had a procedure before. But we wanted to go a step further and find others that have already had a procedure done, and find out how it made their lives better."
Both contests, according to Stephens, are nearing implementation. Still to be released is information regarding the start date of each contest and the cities that the contest will target. Marketing Specialists for Plastic Surgeons will start with ten cities initially, and if successful will find additional locations over the coming months.
The winner of the contest, says Stephens, will be the person that does the best job of explaining why their plastic surgery procedure changed their life for the better. "Sincerity really counts here," said Stephens. "The winner will be someone that has a very heartfelt explanation of what they had done and how they underwent a drastic change in the process. Maybe it was confidence, maybe it was finding the person of their dreams. There are amazing stories out there and we want to hear from people."
Much like the first contest, this contest will have similar rules, namely that it will be a plastic surgeon in the area that picks the winner, and that no more than 500 people will have a chance at competing for the prize. Also similar is that contestants will have a chance to apply more than once for the contest, just as long as they provide proof that they have shared and helped sign up another person for the contest.
"The more people share our contest, the greater their chances of winning another procedure," said Stephens. "For this reason alone we think we'll get our 500 applications very, very quickly."
About Marketing Specialists for Plastic Surgeons:
Florida-based Marketing Specialists for Plastic Surgeons is a company directly involved in developing marketing techniques for both the cosmetic and plastic surgery industries. The company is owned and operated by Craig Stephens.
For further information please contact: Craig Stephens, President, 305-879-5631, or visit the site: CLICK HERE.