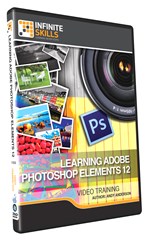 Learn essential tools and techniques in Adobe Photoshop Elements 12 at your own pace.
(PRWEB) November 02, 2013
Software training firm Infinite Skills Inc. this week introduced its "Learning Adobe Photoshop Elements 12 Tutorial," an introductory course teaching the fundamental tools and techniques of Adobe's digital image editing and organization program designed for consumers and hobbyists.
Offered at a fraction of the cost of Photoshop, Elements contains many of the capabilities of the professional-level program, as well as a range of features designed specifically for hobbyists such as simplified organization, guided edits, and sharing features.
Infinite Skills Learning Photoshop Elements 12 Tutorial is designed to get new users up and running quickly and confidently, allowing students to hone their skills by building from a basic skill set to a firm understanding of Elements' more advanced capabilities.
Learning Photoshop Elements 12 Video Training
Course author and Infinite Skills veteran trainer Andy Anderson is a career photographer, professor, and designer, with decades of commercial and artistic publications to his credit. He has authored 17 best-selling books on graphics and design. Focusing on the Adobe Creative Suite line, Anderson works and trains others in using Photoshop, Premiere, Elements, Illustrator, Flash, and Dreamweaver.
Benefitting from the insight and perspective developed over the course of an award winning career, Anderson begins with an overview of Elements, explaining its tool options, navigation, as well as interface features like the grids and rulers and other features of the photo-editing workspace.
Anderson covers all the essentials, explaining how to import images and use the organizer to create albums, slideshows, events, stacks, and catalogues.
From there, the course moves into editing features as Anderson explains tools like cropping and straightening, image recomposition, and the content-aware feature, as well as common touch-ups like red-eye removal, teeth-whitening, and more.
More advanced topics cover complex selection techniques, which allow users to separate elements of a photo, and working with layers to manipulate backgrounds and apply effects like opacity and blending.
The course also includes chapters devoted to color and contrast in Elements, working with raw image files to perform adjustments, and adding effects and filters, and much more.
"Adobe Elements is an amazing application packed with features and tools that allow you to really unlock your creative potential with photos," Anderson says. "This course provides the basics and essentials for getting up and running. We'll start slow, and build to greater complexity in each chapter."
Free demo videos and a full list of course contents can be found on the Learning Photoshop Elements 12 training page of the InfiniteSkills website:
http://www.infiniteskills.com/training/learning-adobe-photoshop-elements-12.html
InfiniteSkills offers its Learning Photoshop Elements 12 Tutorial either as a DVD or a direct download from the company website at a retail price of $49.95. Though the compatibility of programs varies, all InfiniteSkills titles and formats are compatible with both Mac and Windows operating systems, and shipping is available around the globe. Additionally, InfiniteSkills tutorials are supported by project files which correspond to examples in the videos.
About Infinite Skills Inc.
A leader in the field of software training, Infinite Skills designs its courses on a task-oriented model, teaching complex skills by providing hands-on examples and guiding users as they carry out essential functions. Infinite Skills offers a wide range of software titles available as DVDs, digital downloads, and in iPad editions. Infinite Skills now offers a subscription service, providing access to all its training content for a monthly fee, keeping with company's aim of delivering professional training to customers anywhere they want to learn.