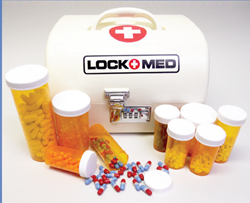 Prescription drug users need to develop the habit of locking up their strong medications ...
Pittsburgh, PA (PRWEB) November 10, 2013
After starting a pain management practice in Pittsburgh, PA, Dr. M. Bud Lateef became alarmed at the growing problem of prescription drug abuse. Out of this concern and the growing national problem, he started to develop products to safeguard medications.
On November 1, 2013, he launched his newest product, the Vanguard Home Medication Lockbox, which was developed for the average American household. The home medication lock box aims to provide a general storage container for medications, as well as, enough security features to provide safeguarding of medications in the home.
According to a 2006 SAMHSA National Survey on Drug Use and Health, an alarming 70% of children who abuse prescription drugs admit to getting the drugs from family or friends.
The Vanguard Home Medication Lock Box has practical design features such as a fold down handle for easy storage; tamper proof hinges; pre-drilled holes to secure the box; inside divider compartment to organize medications; and a vented side wall to be used in refrigeration. It was designed through two years of consumer feedback.
"Prescription drug users need to develop the habit of locking up their strong medications," states M. Bud Lateef, MD, pain management specialist and founder of LOCKMED, the company he started to develop the products. "Pain pills, sleeping pills, anxiety medications, anti-depressants should be locked up to reduce abuse risk and medication theft."
Since the past few years, Dr. Lateef has developed a dozen different products designed to safeguard medications to help curb the growing prescription drug abuse problem caused by unsecured medications at home. Many prescription medications prone for abuse are also easily accessible while traveling, at school and in gyms.
LOCKMED products are available in a variety of sizes and can be purchased directly from the company's website or through any of their 70 dealers throughout the U.S., Canada and Europe. Customers can pre-order the Vanguard Lockbox from the company's website at http://www.lockmed.com.
LOCKMED Medical Product Company, a Pittsburgh-based medical product company, has been developing products to safeguard medications since 2007. Their medication security products have been used and trusted by facilities and institutions nationwide. To learn more about LOCKMED Medication Lock Boxes, visit http://www.lockmed.com, https://www.facebook.com/LockMed or call 888-458-2746. To schedule interview opportunities with Dr. M. Bud Lateef, contact beth(at)lockmed(dot)com.