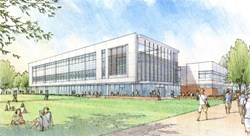 Gilbane is a company with a stellar reputation that has completed many significant construction projects in the greater Richmond area.
Midlothian, Virginia (PRWEB) October 31, 2013
Gilbane Building Company has been awarded the Phase III Academic Building and Parking Garage on the John Tyler Community College Midlothian Campus.
The new 70,000 SF building will provide academic classrooms, computer and testing labs, administrative spaces; student/faculty common space, a black box teaching theatre, fitness classroom, dance/performance classroom space, student services space, and café. The project will also include construction of a 350-space parking garage, necessary entrances/access roads, and associated site improvements.
"The College is very pleased with the selection of Gilbane as the contractor for the new Phase III Building at the Midlothian Campus. This 70,000 square foot building will provide for expanded educational programs at the Midlothian Campus to serve our growing student population," said Mr. Fred Taylor, Vice President of Finance and Administration. "Gilbane is a company with a stellar reputation that has completed many significant construction projects in the greater Richmond area. They are committed to quality customer service and we look forward to working with them on this important project."
The new learning environments are designed to encourage collaboration and facilitate the integration of new technology. The JTCC Academic Building will be designed to meet the International Green Construction code (IGCC). Exterior will be brick masonry, glass and aluminum curtain wall and windows with glass fiber reinforced concrete panels and aluminum sunscreens.
General features:

Academic Classrooms
Black Box Theatre
Food Services
Parking Garage
About Gilbane, Inc.
Gilbane provides a full slate of construction and facilities-related services—from pre-construction planning and integrated consulting capabilities, to comprehensive construction management, close-out and facility management services—for clients across various markets. Marking its 140th year in operation and still a privately held, family-run company, Gilbane has more than 60 offices in various locations around the world. To find out what the next 140 years have in store, visit http://www.gilbaneco.com.
Gilbane is an industry leader in the state of Virginia with a reputation for construction quality and client satisfaction. The company's market expertise in Virginia is focused on education, healthcare, and public facilities. For more than 30 years, Gilbane has worked with some of the area's major institutions and agencies including the Virginia Community College System, Architect of the Capitol, Virginia Department of General Services, Virginia Commonwealth University, University of Virginia, and Virginia Tech.