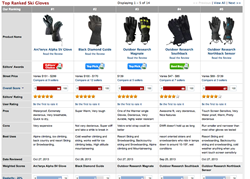 We also pushed these competitors to their limits backcountry, heli and snowmobile skiing while working as part of the Snow Safety Team for Tailgate Alaska in Alaska's Chugach Range.
Cheyenne, Wyoming (PRWEB) October 31, 2013
OutdoorGearLab.com announced today the winners of the Top Ski Glove review for skiing and snowboarding for the 2013 and 14 winter season. Over 14 contenders were used side-by-side in extreme mountain and winter conditions. Testing areas include the peaks of Alaska, snowboarding in the Pacific Northwest, and backcountry skiing in the frigid mountains above Jackson hole and snowmobiling around Lake Tahoe. The gloves were specifically evaluated for skiing, but were also put in a number of more rigorous tests to really find out which ones perform the best across key reading metrics. The competition was evaluated on dexterity, warmth, water resistance, durability and features. All the gloves performs pretty well, but a few really excelled and are described below.
The winners are:
Editors' Choice
The Arc'teryx Alpha SV Glove takes top honors because it scored at the top or near the top in every rating metric. Where this glove really shined was in the dexterity and waterproofness tests. According to gear reviewer Ian Nicholson, "You really have to try these on to appreciate how well articulated they are: they are constructed with the precision that most companies reserve for hard shells. You can operate your jacket and other functions with a surgeons precision compared to competition which is often more clunky."
Top Pick
The Black Diamond Guide was the second highest rated glove and the warmest in the review. According to Nicholson, "If you're in extreme conditions and value toastiness above all, you can't beat the guide. These were worn to the summit of Denali in -38F conditions... no other glove tested could do that."
Top Pick
The Outdoor Research Magnate was the top product for warmer weather conditions. It had a very short break in time and great dexterity with reasonable price.
Best Buy
The Outdoor Research Southback was a top performer and yet cost have to a third as much as the gloves that scored higher. They also are extremely durable which adds to the long-term value. They retail for $85 but can often be found on sale for much less.
OutdoorGearLab LLC is a company headquartered in Cheyenne, Wyoming dedicated to creating world's best outdoor gear reviews. The company's website, is a free resource for people who love the outdoors and participate in activities such as hiking, climbing, backpacking, and camping. The company performs side-by-side testing of outdoor gear and publishes the results in comparative reviews. Each product is scored across a range of weighted categories, competing products are ranked, and awards are provide to top performing products.