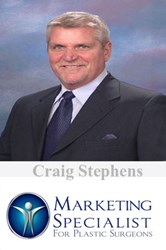 You are a Plastic Surgeon. Let me help you promote your name as a local expert in Plastic Surgery in all the media channels. I'm Craig Stephens, a Plastic Surgeon Marketing Specialist.
Key Largo, FL (PRWEB) November 01, 2013
Marketing Specialists for Plastic Surgeons, a web startup that provides internet marketing assistance to practices across the country, will offer a free plastic surgery procedure to the contestant that sends in the most compelling story of why they wish that procedure to be done. The contest, which will debut in ten cities across the U.S., does not yet have a start date. But according to CEO Craig Stephens, information regarding both the locations and start date will be coming "soon."
"We're extremely excited about this project," said Stephens. "We want to initially start it in ten of the larger cities around the U.S., and then, if it's as successful as we think it will be, we want to keep adding cities in the near future."
Stephens says that the contest will not end on any particular date. Rather, the enrollment period for the contest will stop once the company receives 500 stories from contestants across the area. Furthermore, contestants can send in multiple stories of why they want work done, with the caveat that they must show proof that they've told others about the contest, leading them to sign up as well.
"We want to hear how the surgery changed your life. We want to know why you want it, why you haven't gotten it done yet, how long you've wanted it and why you believe it will change your life for the best," said Stephens.
More information about the contest will be coming soon. The tentative release date, according to Stephens, is November of 2013. He believes that contest spots will go fast, especially with the added incentive that goes along with telling others about it. "I'm certain all 500 contest slots will be snatched up once people get wind of it," said Stephens. "And once we have all 500 we will start the process of choosing a winner!"
About Marketing Specialists for Plastic Surgeons:
Florida-based Marketing Specialists for Plastic Surgeons is a company directly involved in developing marketing techniques for both the cosmetic and plastic surgery industries. The company is owned and operated by Craig Stephens.
For further information please contact: Craig Stephens, President, 305-879-5631, or visit the site: by CLICKING HERE.