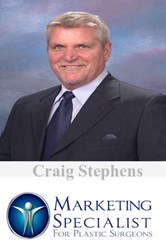 You are a Plastic Surgeon. Let me help you promote your name as a local expert in Plastic Surgery in all the media channels. I'm Craig Stephens, a Plastic Surgeon Marketing Specialist.
Key Largo, FL (PRWEB) November 01, 2013
Craig Stephens, the founder and CEO of Marketing Specialists for Plastic Surgeons, has called for doctors to stop most search engine marketing until they are more aware of what people are saying about them online. According to Stephens, a doctor's marketing strategy could backfire if he is building his name online without addressing his reputation first.
"Doctor's will hire Internet marketers to bring their names up higher search engines like Bing and Google," said Stephens. "But if they aren't careful, the results that filter to the top may not be the results they want. In fact, their marketing efforts could be bringing up old reviews about them online that are not at all flattering. If people see these bad reviews, or no reviews at all, it can be a disaster for the doctor."
Which is why, says Stephens, surgeons should look to online reputation building before Google and Bing search results. By focusing on reputation, a doctor can enforce his or her positive character while also promoting the services that he or she wants to be known for. Stephens considers feedback and testimonials the lifeblood of any practice, and he has spent years learning how to cultivate such responses and get them to stand out on the web.
"Internet marketers that don't have experience in the plastic surgery niche aren't as aware as I am about importance of testimonials for doctors," said Stephens. "All companies have to be aware of what people are saying about them online, but this is truer for doctors and practices. We're talking about surgery that will completely change a person's appearance. Any customer would have to be extremely confident in the surgeon's ability to have work done, and one bad review can destroy that."
Stephens recently announced that his company would begin taking clients soon in Key Largo and its environs. Stephens will make a move shortly after to connect with doctors across the United States.
About Marketing Specialists for Plastic Surgeons:
Florida-based Marketing Specialists for Plastic Surgeons is a company directly involved in developing marketing techniques for both the cosmetic and plastic surgery industries. The company is owned and operated by Craig Stephens.
For further information, please contact: Craig Stephens, President, 305-879-5631, or visit the site by clicking here.