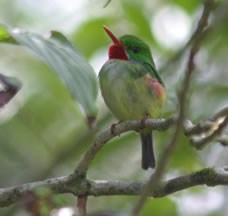 "Great birding, wonderful food, exceptional accommodations, magnificent scenery and good company. What's not to like?" - Former tour participant
New York, NY (PRWEB) October 31, 2013
Birdwatchers, such as those on Naturalist Journeys' recently announced February 22-28 guided group birding tour, experience a very different Jamaica than those who visit the island for a beach stay, never straying far from all-inclusive resorts. Jamaica offers nature enthusiasts a rich mountainous landscape with habitats differing across ascending elevations. Quiet roads and forest trails allow access for birders to catalog the twenty-five plus species found nowhere else in the world. As part of the British Commonwealth, Jamaica has a long tradition of birdwatching. The Jamaican Bird Club, known as BirdLife Jamaica, has existed since the 1950's. This not-for-profit membership organization started as the Grosse Bird Club. It publishes the journal "The Broadsheet" and keeps records of unusual sightings.
Of all the islands of the Caribbean, Jamaica and Cuba claim the highest number of endemic bird species. Each has a tody, an emerald green feathered-gem not much larger than a hummingbird. Only five tody species exist in the world, all found in the Caribbean. A visit to Jamaica rivals the intrigue birders find in going to the Galapagos. Naturalist Journeys owner Peg Abbott developed the tour, along with others to Cuba, Puerto Rico, and Trinidad and Tobago to showcase the region's biological legacy. She says, "Few people, even devoted birdwatchers, realize that Caribbean bird biodiversity exceeds that of the Galapagos Islands, showing patterns of adaptive radiation across numerous species, with endemism occurring all the way to the family level with the todies and the Palmchat of the Dominican Republic."
More on the Jamaica Nature and Birding Tour
Naturalist Journeys' tour begins and ends in Kingston, Jamaica, and participants have the option to come in early to see highlights of the city, including extensive tropical plant collections at the Hope Botanical Garden. The tour is limited to 12 participants. For more information, visit Naturalist Journeys' website.
More on Naturalist Journeys
Naturalist Journeys LLC, a top birding and nature tour company, offers specialty small group tours and travel worldwide, from the western U.S. to Alaska, Hawaii and Florida, Costa Rica, Panama, safaris in Africa and more. Naturalist Journey's guided nature and birding tours feature expert guides with decades of experience in birdwatching, travel photography and other forms of eco-tourism. Naturalist Journeys also offers hiking and adventure travel tours in many national parks and wildlife reserves, including the Galapagos, Antarctica and the Amazon.