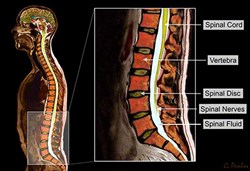 Progress through Innovation: X-Ray and MRI Images in Color
Denver, Colorado (PRWEB) November 07, 2013
Medical Media Images, a Denver, Colorado based company, offers the world a first view of X-Ray and MRI Images in Color. MMI launched its first products in September, 2013 following nearly 2 years of product development. Similar to the development of Color Television, Color X-Ray and MRI images show a whole new world of Medical Images. Viewers of all ages and backgrounds can now understand and appreciate the information provided by Medical Images. This development gives Health Care providers a new tool to show their patients relevant information on Color X-Ray and MRI images.
A patent pending method developed by Medical Media Images has made it possible to see black and white Medical Images in vibrant colors. The colors are carefully chosen to identify the key structures in each image. Color contrast differentiates each anatomical structure which allows the viewer to appreciate and understand the anatomy in detail. Diseases are shown and accentuated in color to allow them to be easily recognizable.
Beyond color conversion of Medical Images, Medical Media Images has gone further by adding other novel features to the Color Images. "Interactive Images" contain interactive image tags which display text explaining the important features of each image. This novel technology allows the viewer to interact with the image and understand the important structures seen on Medical Images. "Side-by-Side Images" allow the viewer to see normal and abnormal Color Medical Images side-by-side.
Medical Media Images also offers custom conversions of X-Rays and MRI scans into color. This service allows Health Care Providers, Medical Publishers and others to convert their most relevant images into Color. These images can now be displayed on websites and in print to provide visual education in ways never done before.
To learn more about the products and services provided by Medical Media Images visit http://www.medicalmediaimages.com or blog.medicalmediaimages.com.