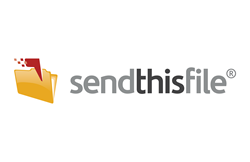 "The vision for SendThisFile going forward is to be the most sought after technology partner where security conscious businesses are seeking compliant file transfer and file management solutions,"
Wichita, KS (PRWEB) October 31, 2013
Ten years ago this month, SendThisFile, Inc. first launched its secure online file transfer system. Today SendThisFile has grown to become an industry leading global platform for privacy, security and compliance across many industry sectors, including; healthcare, finance, legal, energy, IT, manufacturing, media, and government.
"2003 was a challenging year for businesses operating under the complex regulatory environment of the financial and healthcare markets. Compliance, privacy and security were the primary operational challenges," stated Rick Ralston, President of SendThisFile.
From 2002 to 2003, new laws and regulations were introduced, impacting businesses for which very few solutions existed. In July 2002, the Sarbanes-Oxley Act of 2002 (SOX) dramatically increased the reporting and liability for publicly traded companies. In early 2003, the Health Insurance Portability and Accountability Act of 1996 (HIPAA) security standards were published followed shortly by the HIPAA deadline for privacy compliance. This heavily regulated environment compelled SendThisFile to take a security centric view from day one.
Today in 2013, SendThisFile security is integrated as a core technology requirement into many industry sector business processes. Through partnerships with companies like Oracle and IBM, SendThisFile provides fully compliant solutions that meet the unique security needs of many industries.
For the healthcare industry, SendThisFile is HIPAA configurable for compliance with the 2013 HIPAA omnibus final rule based on statutory changes under the Health Information Technology for Economic and Clinical Health Act (HITECH).
In the finance industry, SendThisFile systems and processes are compliant with the American Institute of Certified Public Accountants (AICPA) Statement on Standards for Attestation Engagements no. 16 (SSAE16).
The ten year heritage of SendThisFile has met many technology development milestones including creating robust audit trail technology, enterprise level Outlook integration, secure salted password hashing, Advanced Encryption Standard (AES) 256-bit file encryption and the ability for users to control the duration, number of downloads, and password complexity of each file transferred.
"The vision for SendThisFile going forward is to be the most sought after technology partner where security conscious businesses are seeking compliant file transfer and file management solutions," Ralston added.
ABOUT SENDTHISFILE:
Founded in 2003, SendThisFile was an early pioneer in providing simple and secure file transfers. Today, SendThisFile provides robust API services and website integration with advanced security and privacy such as HIPAA, SOX, and SSAE 16 compliance. With customers in over 170 countries, SendThisFile is a leader in providing secure file transfers to Fortune 500 companies and clients around the globe.
More information: http://www.sendthisfile.com
PRESS CONTACT:
Alex Hund
SendThisFile, Inc.
press(at)sendthisfile(dot)com
855-736-3844
# # #