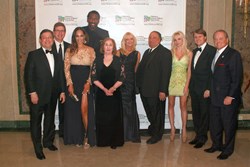 "I have had the privilege of witnessing the discovery and development of new treatments that have changed the lives of children across the world". CCBF chairman, Les Lieberman.
New York, NY (PRWEB) November 01, 2013
The Children's Cancer & Blood Foundation (CCBF) hosted its annual "Breakthrough Ball" benefit gala on Tuesday evening, October 29, 2013 in the Grand Ballroom of the Plaza Hotel. A stunning success, the evening raised over $1 million to provide medication, chemotherapy and other life-saving treatments to thousands of children at the Division of Pediatric Hematology and Oncology of New York Presbyterian Hospital/Weill Cornell Medical Center.
CCBF presented the coveted "Breakthrough Spirit" awards to Margo and John Catsimatidis, owner of Red Apple Group/Gristedes Food, and Amar'e Stoudemire, six-time NBA All-Star. The Catsimatidis are renowned for their philanthropic activities and their activism has fueled the hope of countless people through their community outreach and dedication to a plethora of charitable endeavors. Amar'e Stoudemire has proven himself an outstanding role model for children and adults alike, using his success and influence to creatively inspire and help at-risk youth. His foundation has changed the lives of many children, and Amar'e continues to spread his philanthropy through his commitment to multiple causes.
CCBF bestowed the prestigious Medical Breakthrough Award on former Chief of the Division and current Director of the Thalassemia Program, Dr. Patricia J. Giardina. A world-renowned expert on thalassemia, Dr. Giardina has fostered research that led to the development of new therapies to treat life-threatening blood diseases, and in doing so has effectively altered forever the way children receive treatment.
CCBF's chairman Les Lieberman spoke appreciatively of all those who participated in this year's event, saying "I have had the privilege of witnessing the discovery and development of new treatments that have changed the lives of children across the world thanks to funds raised each year at the Breakthrough Ball. Without the support of our generous donors, these breakthroughs would not be possible."
Long-time CCBF supporter, actor, commentator and philanthropist Charles Grodin returned as emcee for the evening. Legendary Saturday Night Live alum Joe Piscopo, led a hugely successful live auction featuring Super Bowl tickets, a trip for 8 to Harmony Hill Jamaica, a custom cake by Buddy "The Cake Boss" Valastro and a Hamptons Golf Package with tee-offs at the most exclusive and highly rated courses. The magical evening concluded with a spectacular performance by four stars from the Original Broadway cast of Jersey Boys, The Midtown Men. To the crowds delight, Tony Award winner Christian Hoff, Michael Longoria, Daniel Reichard and J. Robert Spencer belted out songs including, "Walk Like a Man" and "Big Girls Don't Cry."
###
About the Children's Cancer & Blood Foundation
For over 60 years, CCBF has been proud to support the extraordinary team of doctors and researchers of the Division. CCBF's support has attracted and retained a group of world-renowned experts on the treatment of multiple pediatric blood disorders and cancers, including thalassemia, hemophilia, sickle-cell anemia and leukemia. CCBF researchers have received international recognition for their work and are on the cusp of breakthroughs predicted to change the way the medical community treats children with cancer and blood diseases. Each year, our physicians treat more than 500 children through more than 8,000 inpatient and outpatient visits. Due in large part to funds raised at the Gala, CCBF is able to continue to support the life-saving work of our doctors and researchers.