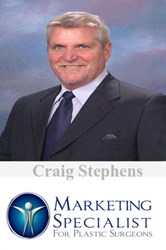 You are a Plastic Surgeon. Let me help you promote your name as a local expert in Plastic Surgery in all the media channels. I'm Craig Stephens, a Plastic Surgeon Marketing Specialist.
Key Largo, FL (PRWEB) November 01, 2013
Marketing Specialists for Plastic Surgeons, an internet marketing startup based in Key Largo, published a new video on YouTube which ties in Blue Ocean Strategy to plastic surgeons and their practices. The video, which was published today, is intended to help plastic surgeons identify new ways to market their practice online, according to the company.
"Unfortunately I think a lot of surgeons don't know the extent of their options when it comes to internet marketing," said Craig Stephens, founder and CEO of Marketing Specialists for Plastic Surgeons. "Most marketers will try to sell them on Google front page strategies and other standard marketing practices, but these surgeons aren't getting the whole picture. They could eliminate competition altogether with a Blue Ocean marketing approach."
Blue Ocean Strategy is a group of analytical tools and frameworks with the intended purpose of helping companies and organizations spur growth through differentiation and innovation. Rather than go head to head with other groups that sell services similar to its own, each organization, according to Blue Ocean Strategy, must develop its own unique brand and in order to create a 'blue ocean' of uncontested market space.
According to Stephens, Blue Ocean Strategy can be applied to a surgeon's practice with similar results. The goal of the video, he says, is to make surgeons aware that Blue Ocean Strategy can work for them, leading to more high-quality patients interested in the services that the surgeon enjoys doing the most.
"Differentiation and reputation I believe are the key marketing factors for any surgeon," said Stephens. "Blue Ocean Strategy addresses both of them. I help surgeons eliminate the services they don't like, while at the same time building a reputation for them as the experts in the services they do want. This eventually takes the surgeon out of a 'red ocean' of competition and into a 'blue ocean' of uncontested market space."
About Marketing Specialists for Plastic Surgeons:
Florida-based Marketing Specialists for Plastic Surgeons is a company directly involved in developing marketing techniques for both the cosmetic and plastic surgery industries. The company is owned and operated by Craig Stephens.
For further information please contact: Craig Stephens, President, 305-879-5631, or visit the site: Marketing Specialist For Plastic Surgeons.