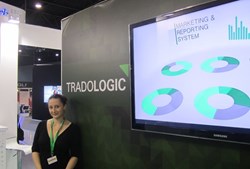 (PRWEB UK) 1 November 2013
TRADOLOGIC's representatives are currently in China especially for the ninth edition of the International Finance Expo that will take place in Beijing Exhibition Center. It is an honor for TRADOLOGIC to be part of this major event and exhibit at booth 35. All event attendees are welcome at the company's booth where they can share business ideas and get binary insight from the pioneers in this field.
This is TRADOLOGIC's third participation in an expo in China for the last two months. After the company's successful participation in the third China International Online Trading Expo and the 11th International Investment and Finance Expo in Guangzhou, TRADOLOGIC is exhibiting in Beijing as part of its strategy for expansion to the Asian markets. TRADOLOGIC realizes the importance of the big and fast-developing Chinese market. TRADOLOGIC's team is eager to meet more Chinese potential partners and introduce to them the products that were especially designed for the Asian market.
TRADOLOGIC is constantly looking for methods to develop new and creative products that can meet the demands of each individual partner. TRADOLOGIC's team of experts believes that the products designed for the Asian market will meet the requirements of Asian investors and deliver them superior value.
The Beijing International Finance Expo is organized by Beijing Finexpo Investment Exhibition Co. and aims to get together key experts in the financial industry to discuss issues and share expertise with the attendees. BIFE is one of the leading financial conferences in China in terms of exhibiting space and numbers of forum attendees.
About TRADOLOGIC:
TRADOLOGIC is the global leader in the financial trading industry with technology built specifically for the binary options trading market. TRADOLOGIC's technology and trading platforms have been extensively refined and enhanced to maintain its position as the most comprehensive, accessible, innovative internet and mobile trading product in the financial trading market. TRADOLOGIC is able to offer its clients an innovative and stable technology that is necessary for a successful business.