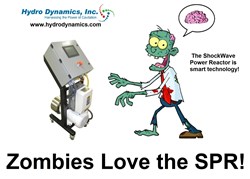 Zombies Love the SPR!
Rome, GA (PRWEB) October 31, 2013
Hydro Dynamics, Inc. (HDI) of Rome, Georgia (http://www.hydrodynamics.com) has launched a new fall advertising campaign to promote its cavitation based ShockWave Power Reactor (SPR). The ad centers around the very popular "zombie" theme in today's culture portraying the zombies as loving the SPR due to it having "brains".
Launching this campaign on Halloween is a perfect fit. HDI looks forward to several other exciting announcements and marketing campaigns before 2013 draws to a close.