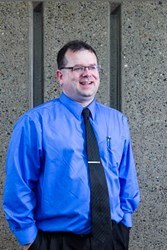 My Linfield experience prepared me not only for greater IT leadership positions within my company but also for graduate school and beyond.
McMinnville, OR (PRWEB) October 31, 2013
Linfield College announces that its Business Information Systems bachelor's degree has been updated and is now offered entirely online. Professionals seeking a degree in Business Information Systems or a certificate in Computer Information Systems can now complete the programs from anywhere in the world.
Linfield College's Business Information Systems (BIS) degree and Computer Information Systems certificate prepare professionals for the technology sector. They build knowledge and expertise through online coursework on two parallel tracks: computer information systems and business and management. The curriculum is designed to fit the Association of Information Technology Professionals' model, and it emphasizes business problem solving through systematic analysis and management of the system development process.
Students can now complete all of the courses in the BIS degree through online classes, which means they can advance their education to the Bachelor of Science level without disrupting their employment. For instance, a full time working adult enrolled on a part time schedule can complete the sequence in the BIS major of online computer science, business and management courses in 24 months. The Computer Information Systems certificate consists of five courses only, which may be completed entirely online in a sequence over nine months. BIS graduates have been hired in positions such as Business Analyst, Data Modeler, Systems Analyst, Database Administrator, Web Applications Developer, Webmaster, and Project Manager.
The expansion of the BIS program's online offerings comes at a time when the value of a BIS degree is soaring. The tech sector is particularly lucrative. According to The Oregonian, tech salaries in Oregon, for example, average about $94,000. In addition to their high pay scale, information systems-related employment is on the upswing, with the rate of job growth exceeding job growth in other industries. According to data reported in September 2013, by Mike Rogoway, technology journalist, the tech sector in Oregon is "racing ahead of the rest of the economy, leading the state's recovery by adding jobs faster and paying more than twice the state average." With similar trends in the information systems sectors in other states, a bachelor's degree or certificate in BIS from Linfield College holds strong earning power.
The BIS programs are designed with career advancement in mind. Martin Dwomoh-Tweneboah, Chair of Linfield College's Computer Science Department, and head of the BIS program, says: "We belong to alliances with Microsoft and Oracle that equip our students with industry strength software for success in our online Business Information Systems courses." This type of cutting-edge mentality has benefitted BIS students. Michael Florea, BIS graduate and Senior VP and Chief Information Officer of Columbia Credit Union, says, "With the reputation Linfield has, my degree has given me advancement opportunities in my career." Kelly Brown, Academic Director, Applied Information Management Master of Science degree, University of Oregon (aim.uoregon.edu) says: "My Linfield experience prepared me not only for greater IT leadership positions within my company but also for graduate school and beyond."
Linfield accepts up to 95 transfer credits from other regionally accredited community colleges and four year colleges and universities toward the 125 credits required for completion of the Bachelor of Science degree in Business Information Systems. The next starting point for the BIS degree program will be January 2, 2014. Applications are being accepted now for 2014 classes. Adult students are encouraged to contact Linfield College Adult Degree Program to explore how the BIS degree program can provide professional advancement opportunities.
About Linfield College Adult Degree Program:
Chartered in 1858, Linfield College is one of the first colleges in the Pacific Northwest and is regionally accredited by the Northwest Commission on Colleges and Universities. The Adult Degree Program offers adults the opportunity to earn a bachelor's degree or certificate online in ten fields of study.
Online programs offered by Linfield College Adult Degree Program include an online management degree, business information systems degree, accounting degree, online marketing degree, RN to BSN degree and international business degree and certificates in post baccalaureate accounting, human resource management, computer information systems, and marketing.