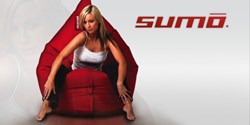 Sumo Lounge has partnered with SumoRetreats to send a lucky winner to Puero Vallarta with a prize pack valued at over $4000.
Los Angeles, CA (PRWEB) October 31, 2013
Sumo Lounge, an award-winning creator of high quality bean bag furniture, has partnered with Sumo Retreats to host a contest that will help anyone beat the winter blues. The two companies have partnered to send a lucky winner and a guest to an all-expenses paid vacation to the beautiful Mexican resort city of Puerto Vallarta.
Valued at over $4000, the prize pack will create unforgettable memories for the winner. The winner—and a guest—of the contest will receive a three night, four day stay in Puerto Vallarta at the ultra-modern Philippe Starck-designed Icon Vallarta complex. As well as luxury accommodations, the package includes airfare to Puerto Vallarta, and access to the exclusive onsite amenities offered by Icon Vallarta. This includes: a state-of-the-art cinema, a deluxe swimming pool, spa services, a gym, and access to a gourmet restaurant.
Puerto Vallarta is a beautiful city located on the Bahia de Banderas, in the Pacific Ocean. As one of the most scenic and memorable destinations in Mexico, Sumo Retreats has handpicked Icon Vallarta, marking it as "one of the many sensational properties available". For individuals that do not win the contest, Icon Vallarta is one of the many extraordinary properties available through Sumo Retreats.
Individuals interested in this amazing prize package simply need to post their best travel photo with a creative caption on Facebook. Enter here: http://goo.gl/862sMN
The deadline to enter the contest is December 15th, 2013.
To view official guidelines and rules, please visit: http://goo.gl/JdAKPi
About Sumo Lounge
The impressive online bean bag furniture store of Sumo Lounge was founded in Jan 2004 and continues to grow. Sumo Lounge's philosophy aims to ensure the best possible experience for leisure time, shopping experience, and customer's wallets. All of Sumo Lounge's bean bags are high quality, durable and easy to clean. With a safe shopping environment with a secure SSL, 24/7 telephone customer support, Sumo Lounge is proud to offer a 100% satisfaction guarantee on all bean bags. Sumo Lounge offers free shipping (on all orders), which means customers get the best price possible.
About SumoRetreats
Whether a guest is searching for the perfect vacation experience or an owner looking to rent to welcome guests, the team of professionals at Sumo Retreats will work hard for you every day to earn your business. SumoRetreats specializes in renting the right home to the right guest. Every day!
For guests looking for the inside info on the best attractions and leisure activities, the best restaurants, nightlife and shopping venues, the best of everything – SumoRetreats is the right place. The SumoRetreat staff is well prepared to provide anyone with personalized recommendations and service to ensure a holiday that matches any needs and dreams. The goal of SumoRetreats is to provide customized service leading to greater customer satisfaction which will leave clients wanting to vacation with SumoRetreats again and again.