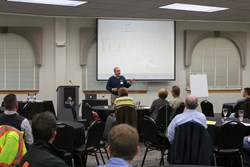 I made sure we designed our Business Summit to help owners better develop their businesses.
St. Paul, MN (PRWEB) October 31, 2013
For many small service business owners, finding time to work on their business, instead of in it, is a challenge. They usually get started because they love what they do – fixing irrigation systems, mowing lawns, plowing snow – not because they're great at running a business. Once they start growing their business and adding staff, they need to start focusing on how to run a business, not fixing an irrigation system. But many struggle to make that transition.
HindSite Software's customers are no different. They struggle managing their business on a day-to-day basis. Which is one of the reasons they've selected HindSite, the premier work order software company, to help them manage and understand their business.
To help them work on their business, HindSite Software recently hosted their annual HindSite Business Summit at the Kentucky Derby Museum in Louisville. The Summit included sessions designed to get owners thinking about their exit strategy as well as ways to make their business more profitable, helping attendees develop clear action plans for business improvement.
"When I owned an irrigation business, I spent so much time working in the business, that I couldn't work on my business," explains David Crary, President and Founder of HindSite. "So I made sure we designed our Business Summit to help owners better develop their businesses."
For many small service businesses, finding peers they can talk shop with can also be difficult. Typically, they directly compete for business with their regional peers. As a result, many business owners lack the relationships that can help them overcome common issues facing small business owners.
The HindSite Business Summit helped many attendees overcome this obstacle, putting them in touch with non-competing peers from across North America.
"We've found that our customers are clamoring for ways to connect with other business owners, " explains Crary. "We structured the HindSite Business Summit so that there was plenty of time for attendees to meet other business owners and discuss possible solutions to the problems facing their businesses."
HindSite plans to host another Business Summit next year on October 22, 2014.
About HindSite Software
HindSite Software has helped green industry contractors better manage and grow their business with field service software since 2001. Initially designed as irrigation software, HindSite today assists service businesses with scheduling and billing (e.g quickbooks scheduling software), contact management, field data collection, and invoicing in QuickBooks®, Sage Peachtree®, and Simply Accounting®. This paperless field service management software has been proven to increase efficiency and organization, meaning greater profit potential with less administrative time.