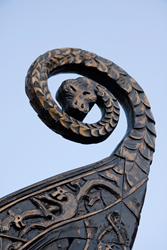 This Viking-themed cruise is notable for its stellar lecturers, who include Ivy League professors and a Metropolitan Museum of Art curator, all with complementary backgrounds in folklore, history, medieval art and archaeology.
New York, NY (PRWEB) October 31, 2013
Do you savor the supernatural? If so, then you might consider signing up for Harvard University's "In the Wake of the Vikings" cruise. Stephen Mitchell, author of "Witchcraft and Magic in the Nordic Middle Ages" and Harvard's resident expert on witchcraft and magic, is a featured lecturer on this program, which sails from Copenhagen to Reykjavik aboard the all-suite motor yacht, Sea Explorer.
A wave of early reservations has already come in for this trip, on which participants will discover sophisticated Scandinavian cities, Neolithic sites, Norse settlements and the world's most unspoiled islands.
In Copenhagen, a curator will escort them on a tour of the classical and Impressionist collections of the Ny Carlsberg Glyptotek museum. There will also be ample free time for exploring this eminently walkable city. After boarding Sea Explorer (a 100-passenger ship that is considerably more comfortable than the ones the Vikings used!), the group will sail along the coast to Gothenburg, Sweden's second-largest city, to discover its Rohsska Museum of design and crafts and enjoy panoramic views from the hilltop Masthugg Church. The next port of call is Oslo, where they will see Kon-Tiki, Thor Heyerdahl's famous balsa raft. In Bergen, Norway, participants will tour the 14th-century wharf—a UNESCO World Heritage site—and visit the countryside villa of composer Edvard Grieg for a private performance of his music before crossing the North Sea.
From Lerwick, capital of the Shetland Islands, they continue to Jarlshof to explore this remarkable Stone Age settlement, which was in continuous use until the 17th century. In the Orkney Islands, participants visit some of the finest Neolithic sites in Europe, including Maes Howe, a remarkably well-preserved, 5,000-year-old circular tomb. After exploring the Faroe Islands—the most unspoiled islands in the world, according to National Geographic Traveler—they sail through the remote, lava-strewn Westman Islands of Iceland before disembarking in Reykjavik for a visit to the Blue Lagoon, the world-renowned geothermal spa.
What makes this itinerary especially remarkable is the outstanding lecture team on board, all with very different yet complementary academic backgrounds. Stephen Mitchell is Professor of Scandinavian and Folklore at Harvard University, the author of "Heroic Sagas and Ballads" and a lecturer at Harvard's Viking Studies summer program in Scandinavia. Art historian Wendy Stein of The Metropolitan Museum of Art is a medievalist whose specialty is in early British and Irish art from the sixth to ninth centuries C.E.—the period central to understanding the effects on the British isles of the Viking Age, which began in 793. Roberta Frank, Professor of English at Yale University, is an expert in the languages, literatures, history and archaeology of the medieval North, and co-teaches a lecture course called "Vikings" that is one of the college's largest and most popular humanities classes. Her husband, Walter Goffart, is professor emeritus of medieval history at the University of Toronto and the author of "Barbarians and Romans."
For more information on Stephen Mitchell:
Author of Witchcraft and Magic in the Nordic Middle Ages
http://www.thecrimson.com/article/2003/10/30/fifteen-questions-for-stephen-a-mitchell/
For a copy of the trip brochure including prices and a reservation form:
http://alumni.harvard.edu/travel/trips/vikings-2014