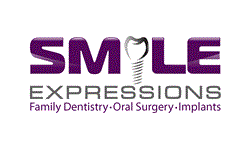 New Teeth in a Day is revolutionizing patient quality of life, and giving patients a real solution to tooth loss for individuals that have dentures or need dentures
Mt. Dora, FL (PRWEB) November 21, 2013
The dentists at Smile Expressions are now offering same day customized dental implants via their breakthrough All-on-4® procedure. This procedure, New Teeth in a Day, allows clients to condense what would ordinarily take multiple visits to accomplish into a one day procedure, providing a completely customized set of implants in mere hours.
"We are really excited to bring this procedure to our patients here in Florida," says Dr. Ryanne Hazen-Gilliland. "New Teeth in a Day is revolutionizing patient quality of life, and giving patients a real solution to tooth loss for individuals that have dentures or need dentures."
In just a few simple steps, patients will be ready to show off a brand new smile. The process is simple:
Step 1: Smile Expressions will set up a free consultation with patients to set expectations
Step 2: A 3D CT scan will be performed to determine the locations for a patient's dental implants
Step 3: On the day of surgery, patients will be placed in a deep, relaxing sleep while Smile Expressions performs any necessary extractions and places implants.
Dr. Ryanne Hazen-Gilliland and Dr. Gary Raska, who have both gone through extensive specialized training in New Teeth in a Day and All-on-4 dental implant procedures and rehabilitation, lead the work on this new procedure.
"We understand that there are preconceptions about visiting the dentist, and especially about getting dentures," says Dr. Raska. "At Smile Expressions, we aim to make the experience of every one of our patients quick, relaxing, and rewarding. Dr. Hazen-Gilliland and I, along with the rest of the team here have worked hard to bring exciting new technology to our patients, and to break the misconceptions about dental work."
Based in Mt. Dora, Florida, Smile Expressions is creating a new, genuinely exciting experience for their patients. With this new All-on-4 implant process, clients in need of dentures can be in and out in a day, and with a brand new smile ready to show off to the world.
About Smile Expressions
Smile Expressions is a state-of-the-art family dentistry, oral maxillofacial surgery, and dental implants center that provides first class services by Dr. Ryanne Hazen-Gilliland a Mt. Dora Dentist and Dr. Gary Raska a Mt. Dora Oral Surgeon, both also provides services to Orlando, Mount Dora, Eustis, Tavares, Lady Lake and the Villages areas.
The office can be reached at:
Phone: 352-383-9406
Toll free: 888-765-1110
Fax: 352-383-9539
Email: DrHazen(at)Teethinaday(dot)com
Address: 19001 US Hwy 441, Mount Dora, FL, 32757-383-9406
Office Hours are Monday through Friday from 9AM to 5PM.
Contact:
Devin Gilliland
352-383-9406
http://www.teethinaday.com