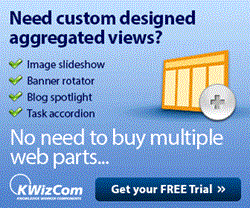 Toronto, ON (PRWEB) October 31, 2013
KWizCom, a leading developer of innovative software components designed to expand Microsoft SharePoint, announces Data View Plus Web Part. With the help of this breakthrough KWizCom add-on, you can easily create a customized, branded display of aggregated SharePoint list items in a way never before possible.
Customers will be relieved to find out that unlike SharePoint's out-of-the-box Data View web part, KWizCom's Data View Plus Web Part does not require them to have the high technical skills of SharePoint Designer such as XSL in order to create amazing display layouts. A set of great-looking, ready-to-use views are already included in the Data View Plus web part, such as Task-Accordion, Blog Spotlight, Image Slideshow, Banner Rotator and more. The great news is that users can save time and money now, by not having to purchase any of these as separate products, since KWizCom's super-flexible viewer includes them all.
KWizCom's Data View Plus web part offers a wealth of Key Features and Benefits:

Display any list views in your custom-tailored layout
Display aggregated data from various site collections and web applications in your requested custom layout, by connecting to the KWizCom Enterprise Aggregation Caching Feature
Includes great-looking, ready-to-use display layouts such as image gallery, blog spotlight, tasks accordion and more
Create custom display layout
Requires no external tools
Includes Site Collection repository of shared layouts
If you want to find out first-hand what the software it like, KWizCom offers a no-cost 30 day trial version of Data View Plus. Click here to download.
Follow KWizCom on Twitter http://www.twitter.com/KWizCom.
Become a fan of KWizCom on Facebook: https://www.facebook.com/KWizCom.
About KWizCom Corporation
Since 2005, KWizCom has provided innovative solutions and services to make SharePoint even better for over 5,000 companies worldwide. KWizCom's solutions and services expand Microsoft SharePoint out-of-the-box capabilities, streamline workflow, maximize efficiency and enhance over-all productivity for hundreds of thousands of users. KWizCom, a Gold Certified Microsoft Partner, is headquartered in Toronto, Canada. Please visit http://www.kwizcom.com to find out more about KWizCom's clients, people, partners and solutions.