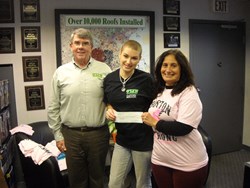 Norwood MA (PRWEB) October 31, 2013
Norwood-based roofing company O'LYN Contractors, Inc. (O'LYN Roofing) through the Tom Olen Foundation, donated the first of many dollars today in the hopes of supporting individuals as they battle cancer.
The Tom Olen Foundation was created in the honor of long-time O'LYN employee Tom Olen who battled cancer for nearly a decade. The Foundation is off to a great start thanks to the Tom Olen Memorial Golf Tournament which raised thousands of dollars in September.
Richard Dow and Linda Olen of O'LYN Roofing presented the check to founder of the Paint Her Pink Foundation, Rhonda Julian. The mission of Paint Her Pink is to gather community support around young women as they battle breast cancer.
Marketing Director Mark Negron of O'LYN Roofing says this donation is the first of many. "This is our way of saying thanks to a community that has supported us for the last forty years. We hope to actively keep the Tom Olen Foundation funded and support many more families and charities because we understand the hardships of battling cancer."