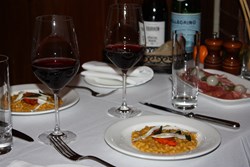 Greenwich, CT (PRWEB) October 31, 2013
Chef Kevin Garcia of Morello Italian Bistro in Greenwich, CT is offering flavorful farrotto specials this fall, incorporating the versatile, Italian ingredient in salads, soups and side dishes. Chef Garcia recently shared his take on "farrotto," a simple yet decadent dish using the ancient Italian grain farro, cooked in the style of risotto.
"One of my favorite ingredients to incorporate into farrotto is Kabocha squash, commonly known as Japanese squash. The deep orange coloring is perfect for fall festivities, and the delicious flavor conjures up sweet potatoes and pumpkin." Garcia purées the Kabocha, which is added to the farro, and garnishes the dish with roasted Kabocha slices.
Looking for an original side dish to pair with the traditional offerings of turkey and gravy this Thanksgiving? According to Chef Garcia, "Farrotto is the perfect Thanksgiving trimming for any chef, novice or experienced, since the grain is simple to cook. While rice can be overdone, farro is very forgiving. Guests will be impressed by the unique flavor and texture of the dish."
At Morello, Garcia offers diners a different preparation of farrotto each day, based upon the availability of seasonal ingredients. Some of his favorite include:

Fall: Farrotto with butternut squash purée, topped with cubed squash.
Winter: Farrotto 'Quattro Formaggio' – four-cheese farrotto with gorgonzola, goat, parmesan and robiola cheese, topped with toasted walnuts
Spring: Farrotto with ramps, English peas, asparagus, fava beans and goat cheese.
Summer: Farrotto with heirloom tomatoes, mozzarella, basil, chilies and marinara.
Garcia's interest in farrotto dates back to the early 1990s working with his mentor, the acclaimed Italian chef Cesare Casella, at Coco Pazzo in New York City. "Cesare was bringing his Tuscan style of cooking to America, and farro is an Italian staple he loved to use," noted Garcia.
Farro is the oldest cultivated grain in the world, dating back to the Middle East during biblical times and eaten in Ancient Roman times when it was considered a food for the poor. Recultivated in Italy, farro is becoming more widely used in the U.S. today due to the rising popularity of rustic Italian food. According to Garcia, Morello is one of the few restaurants in Connecticut to serve this Italian favorite on its menu.
In addition to its sweet flavor and slightly chewy texture, farro has twice the fiber and protein than modern wheat and is rich in antioxidants, vitamins A, B, C, E and magnesium. The grain is not gluten-free but contains considerably less gluten than commercial wheat varieties, making it a good option for those with diet sensitivities.
Chef Garcia's signature Kabocha squash farrotto recipe is below. Visit Morello Italian Bistro at 253 Greenwich Avenue, Greenwich, CT to try Chef Kevin's seasonal offerings.
Kabocha Squash Farrotto
Courtesy of Chef Kevin Garcia, Morello Italian Bistro
Serves 6
Ingredients
1 kabocha squash, if not available butternut or acorn or your favorite squash can be substituted, roasted
1½ cups farro
Virgin olive oil
¼ cup white onion, small dice (brunoise)
2 tablespoons + 1/3 cup parmesan cheese, grated
2+ 2 tablespoons butter
3 +12 leaves of fresh sage, fried
4 ounces Ricotta salata cheese, shaved with a peeler
Salt & Pepper
For the farro, lightly sauté white onion in olive oil a few minutes, do not brown. Add farro, stirring constantly. Cook farro in onion about 2 minutes. Add 2 quarts water or vegetable stock. Cook farro about 20 minutes, strain and reserve the cooking liquid. Cool farro on a cookie sheet.
For the kabocha, cut in half, remove seeds, toast seeds if desired, cut kabocha into wedges. Place on a roasting pan oiled, salted and peppered. Roast in oven for 20 minutes at 325 degrees F.
When done, reserve 6 pieces for garnish. Take remaining kabocha and place in a food processor; add 3 tablespoons virgin oil, 3 sage leaves, 2 tablespoons butter and 2 tablespoons parmesan cheese. Purée until smooth adding water as necessary to help it become a smooth purée consistency.
To prepare farrotto: In a saucepan, add cooked farro, approximately ⅓ cup per person. Add 1 to 1½ cup farro cooking liquid. Warm up over medium heat stirring constantly with a wooden spoon. When farrotto is looking like a thick porridge, add purée of kabocha, 2 tablespoons butter, and ⅓ cup grated parmesan. Stir vigorously until all ingredients are thoroughly incorporated. Taste for salt, adjust to your liking. Spoon out farrotto onto warm flat plates, shaking plate to make farrotto cover surface of plate to the rim, garnish with warmed slice of kabocha, fried sage leaves, shaved ricotta salata and drizzle good quality virgin olive oil. Serve immediately as an appetizer, mid-course or entrée.
Enjoy!
About Morello:
Morello Italian Bistro is located at 253 Greenwich Avenue, in the heart of Greenwich, CT, open seven days a week, serving lunch, brunch and dinner. Nationally-renowned Executive Chef Kevin Garcia offers guests a menu of exceptional rustic Italian cuisine with a modern twist, incorporating local ingredients whenever possible. Seasonal cocktails and an extensive wine list are created by wine and beverage connoisseur Olivier Flosse, Wine Director for MARC US. Located in a historical landmark building designed by Rafael Guastavino Jr., featuring stunning tiled arches and vaulted ceilings with dramatic skylights, Morello is the perfect setting for intimate dinners, private parties and corporate events. Reservations are accepted and can be made by calling (203) 661-3443. For additional information, please visit http://www.morellobistro.com.
About MARC Ltd.:
Under the direction of Chairman Marlon Abela, MARC (Marlon Abela Restaurant Corporation) offers an international collection of restaurants and enterprises that realize a sense of discovery and passion. The diverse portfolio includes eight restaurants throughout London and the east coast of the United States. MARC is renowned for delivering food excellence by providing cutting-edge cuisine that is united by a consistent commitment to quality food and impeccable service, in exceptional surroundings.
Internationally, MARC is a unique restaurant group in terms of the variety it offers, specializing in an array of different cuisines, including French, Italian and Japanese. MARC differentiates itself further by implementing an impressive wine program across the group, and has achieved Wine Spectator's Grand Award in USA and UK-based restaurants, an accolade no other independent restaurant group has accomplished.