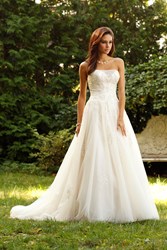 New York, New York (PRWEB) November 01, 2013
After more than 30 years, the New York-based fashion house, Jovani, has established itself as an evening wear empire. As their collections expand with dozens of timeless and trendsetting designs, Jovani is fulfilling its vision of being the go-to designer for women no matter the occasion. And that leaves no exception to their recently released 2014 bridal collection.
Women all around the world dream of the day that they can walk down the aisle in the dress of their dreams. She has rehearsed every detail, whether it is her vows, hair or makeup and most importantly has searched for the perfect dress. It could be anytime of the year, but a woman just gets one day to wear that elegant gown of her dreams.
The effortless beauty and versatility of Jovani's bridal gowns makes that possible for every woman. From their more classic ball gowns to their form fitting mermaid silhouettes, Jovani has developed a collection that works for any woman. Each design not only has the right mix of tradition, but also has that extra dash of sexiness.
While Jovani's bridal collection is new to the scene, it has already made a big splash in the wedding market. Recently featured on BridalGuide.com's most buzzworthy new gowns from the Fall/Winter 2014 Bridal Fashion Week, Jovani's gowns are sure to bring that wedding fantasy that every woman dreams of experiencing. These whimsical yet creative designs feature unique embellishments that make these gowns original yet traditional all at the same time. Like the leaf-like silk embellished ballgown of style JB92931, the effortless romance will permeate the crowd as the bride walks down the aisle.
As a bride, she has many different options, depending on what kind of look she wants to go for. Jovani is a great option because the collection has a combination of sexy, sophisticated, glamorous and edgy styles. The selection of necklines for the long gowns and T-length dresses range from sweetheart and plunging to one shoulder, halter or cap sleeve. Be simple with discreet designs made from sweet chiffon, and soft silk or be extravagant with elegant beadwork, sequin, lace or embroidery. Go bold and get the Angelina Jolie look with the sexy thigh slit. From breathtaking strapless ball gowns to flare trumpet dresses with flowing trains leaving a bride feeling like a princess, flaunting your best qualities is Jovani's goal.
Every woman deserves to look beautiful whether it is on her wedding day or any other special occasion. Jovani Fashions' versatile collection stands out amongst other high-end collections and is a leader in evening wear. Jovani has a style to fit every personality. From wedding, mother-of-the-bride, couture, prom, and short/cocktail dresses, Jovani has developed a selection of dresses that work for all women across the world. Their dynamic dresses are known for their elegance and jaw dropping glamour while using the best quality of products. Jovani's designer dresses vary from classic and conservative to fashion-forward and trendy. Jovani dresses can be seen on the dance floor at prom to the biggest red carpet shows graced by today's favorite celebrities and prominent people worldwide.
Felicia R. Garay-Stanton
Jovani Fashions
Felicia(at)jovani(dot)com
212.279.0222