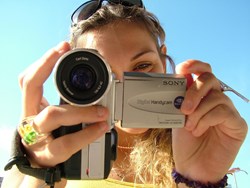 San Francisco, CA (PRWEB) November 04, 2013
Can a video help you get into college?
"Yes," concluded filmmakers and college coaches Max Kiefer and Rosa Wolfe after their children made application videos and were accepted at their top choice schools, prestigious Brown and Wesleyan Universities. "Video essays made a difference." In fact, Brown even referenced their daughter's video in its acceptance letter. Realizing that something game-changing was afoot in the admissions arena, they scoured YouTube for the best and brightest showpieces, set up a free DIY website, http://www.ThisIsMeVideo.com and wrote a step-by-step guide for high-school students: How to Make a Winning College Application Video Essay: Everything You Need to Know From Idea to Upload.
What's a video essay? It's a one or two minute optional video - a fresh, direct way for a student to tell colleges about him or herself - a unique, intangible extra that can help land a student on the "yes" pile.
In recent years, application videos have gained visibility as Tufts, George Mason and other schools have invited students to submit them. With or without that paradigm-changing policy, say Kiefer and Wolfe, in the internet era, college admissions videos were inevitable. "Watch just a handful on YouTube and you will come away impressed by their individuality and creativity. This generation, if not reinventing the college application, is certainly upgrading it."
In their book, the couple tells students that, "In the increasingly competitive admissions crush, a video can give you an edge. Beyond stats and scores, colleges want to know who you are. A video is one of the best ways to communicate your 'you-ness.'" They stress that any student can make a strong application video - even technophobes or the camera-shy. "You don't need fancy equipment. Colleges don't want slick. What matters is your voice."
Their user-friendly creative and technical guide examines what makes a standout video and provides links to some of the best examples on the web, from fire twirlers to flying elephants to post-oral-surgery raps. Their site, http://www.ThisIsMeVideo.com, provides free how-to information, including a crash course, "College Video 101," a FAQ, and examples of outstanding application videos.
Together the book and website provide step-by-step guidance for brainstorming, shooting, editing and scoring a mini magnum opus, which might be the key to getting into Top Choice U.
About the authors:
Max Kiefer and Rosa Wolfe are professional filmmakers, writers and college coaches. They are graduates of Yale University and Columbia University. Their book, How to Make a Winning College Application Video is available at Amazon.
http://www.ThisIsMeVideo.com provides examples, tips and information on making college application videos.
http://www.TheadmissionTicket.com provides information on the authors' college admissions services.
Contact Information:
Max Kiefer and Rosa Wolfe
max(at)collegeapplicationvideo(dot)com
415 695-1341