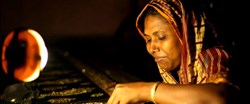 Light is one of the basic needs of mankind and now anyone can give light to those living in the dark - via this campaign.
New York City, NY (PRWEB) November 01, 2013
Milaap.org, a crowd-funding platform and Arc Finance have come together to celebrate Diwali by raising funds to light up communities and provide improved cookstoves to families in rural West Bengal and Odisha. This is a match campaign, with Arc Finance matching every dollar lent to the campaign.
Energy is one of Milaap's primary sectors, and they work with on-ground partners, like DCBS, to provide solar lighting. They also work towards providing families with improved energy efficient cookstoves. Both these projects reduce respiratory illnesses caused by kerosene lamps and traditional cookstove (chulha) fumes. Arc Finance is one of Milaap's impact partners. They have been providing direct consultation for all of Milaap's energy partners since 2012.
So far, 500 families have been given light as part of the Diwali campaign. The fundraisers have been extremely enthusiastic, with several of them getting the communities that they adopted fully funded in less than 24 hours. Over US$ 15,000 has been raised so far. Both individuals and organizations have participated, from USA, UAE, Singapore and India.
Adhiraj Saxena from Singapore, ran a fundraiser and picked a unique way to thank his contributors. He gave candles to every person who made a loan on his campaign. He says, about his campaign, "Eighteen of us, all between the ages of 25 and 30, raised Rs. 57,000 in 5 days. The young do-gooders are not in it for just good karma. We need a vehicle that monitors & demonstrates the outcome of our hard earned contributions. Milaap is one such vehicle - it brings both credibility and sustainability to the table."
Thanks to Milaap's enthusiastic lenders, families in West Bengal and Odisha will be able to celebrate a brighter Diwali than they imagined. Some families have been given access to solar lighting for life, while the rest will be free from respiratory illnesses, thanks to their improved cookstoves. All these families will pay back their loans in between 9-12 months, since Milaap believes in loans and not donations.