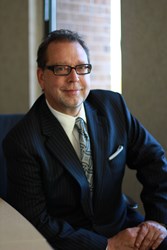 George is deeply honored to have been selected as the ninth recipient of the W. Harold Petersen Lifetime Achievement Award.
Minneapolis, MN and New Orleans, LA (PRWEB) November 05, 2013
MyDisabilityPlans, LLC is proud to announce that George Davidson, CLU, ChFC, RHU, DIA, CLTC, President of Secura Consultants and Partner of MyDisabilityPlans, LLC in Minneapolis, MN was awarded the prestigious W. Harold Petersen Lifetime Achievement Award at the 2013 International DI Society Conference held in New Orleans, LA.
The award is in honor of W. Harold Petersen, RHU, DFP, who has been a leader in the disability insurance Industry for over 60 years and is Founder and Chairman of Petersen International Underwriters. The founders of the International DI Society deemed it appropriate to name the Lifetime Achievement Award after him. W. Harold Petersen has dedicated his professional life to furthering the disability insurance product, creating awareness both within the industry and with the consumer, is internationally renowned, and is himself a recipient of numerous prestigious awards within the insurance and financial industries.
The W. Harold Petersen Lifetime Achievement Award is open to the individual who has demonstrated dedication in the field of disability insurance, exhibits leadership in his/her professional life, has made a distinctive contribution to the disability insurance industry, and has practiced their profession to the highest ethical standards attainable. Unselfish voluntary service is also a consideration in the award consideration process.
"We are deeply honored that George received this award," says Mitchell Nelson, president of MyDisabilityPlans, LLC. "George founded Secura Consultants in 1995 and MyDisabilityPlans in 2011. He has made numerous contributions to the industry, both nationally and locally. George's innovative ideas, DI knowledge and professionalism make him worthy of receiving this prestigious award."
MyDisabilityPlans.com and our team of long term disability insurance providers, affiliates, and consultants have over 120 years of combined industry experience and knowledge. Our company believes in establishing long term relationships with our clients because the services and plans we provide are not stagnant but must be actively managed as lives grow and change.